Getting back to business safely
COVID-19 has caused retailers and owners to rethink the way they engage with consumers. As our customers begin to prepare for the second phase of Covid-19 we are here to help them prepare for the "new normal" with the best practices we have seen in retail innovation. Our goal is to help you and your team get back-to-business safely. 
We would love to help you with new ideas that our Creative Team of over 30 talented designers, structural engineers, industrial engineers and graphic artists can bring to life. Our team created innovative pandemic-related products, such as signage for physical distancing and plexiglass panels for several large Canadian retailers to protect their customers and employees.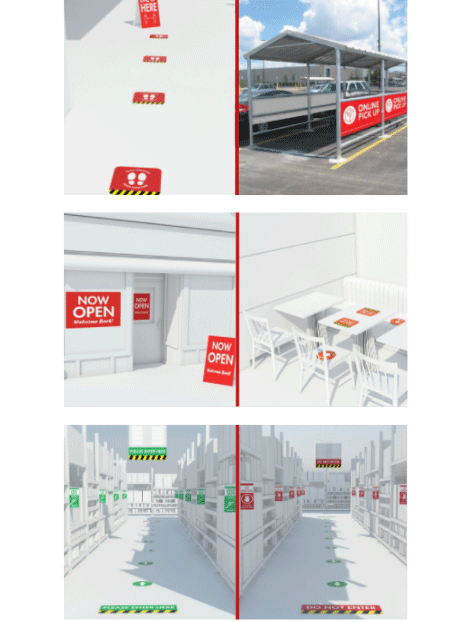 SAFE SHOPPING SOLUTIONS 
Outdoor Customer Control
In-Store Physical Distancing & Hygiene Initiatives
Curbside Pickup Solutions
Outdoor Re-opening Signage
Front-line Worker Initiatives
SAFE WORKING SOLUTIONS
Outdoor Staff & Parking Control
Front Lobby & Reception Solutions
In-Office Physical Distancing & Hygiene Initiatives
Welcome Back Signage
SAFE RESTAURANT SOLUTIONS
Outdoor customer control
In-restaurant social distancing & hygiene initiatives
Curbside pickup solutions
Re-opening signage
Front-line worker initiatives
Let's work together to make everyone safer while keeping the economy going!
Contact us now to find solutions tailored for your needs!