Recent Quarterly Results
Q1-2018 Supplemental Segmented Information

Transcontinental Inc. announces its financial results for the first quarter of fiscal 2018, which ended January 28, 2018.
March 1st, 2018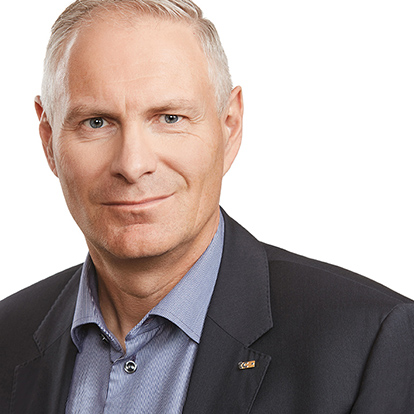 François Olivier, President and
Chief Executive Officer,
TC Transcontinental
"I am satisfied with our first quarter financial results, which show that our profitability has increased while we continue the transformation of our organization," said François Olivier, President and Chief Executive Officer of TC Transcontinental.
 "In the printing division, the demand for our retailer-related service offering remained relatively stable. Furthermore, we implemented initiatives aimed at continuously optimizing our printing platform, namely the consolidation of our Québec newspaper printing plants. In addition, we will transfer to Hearst the operations of our California facility as of April 2018. Consequently, we will repatriate state-of-the art equipment to some of our Canadian plants, which will generate synergies mainly starting in 2019.
 "In the packaging division, this year's first quarter results were mainly affected by timing differences in purchases at one of our plants, but we anticipate that organic sales growth in 2018 will be similar to 2017. In addition, we pursued in a very active manner a number of promising acquisition opportunities.
"In our Media Sector, we sold 34 local and regional newspapers during the quarter and continued to adjust our costs to our asset base. Overall, the Media Sector's activities performed well.
"Today, with our enviable financial position and significant cash flows, we are, more than ever, well positioned to accelerate the growth of our packaging business."
(in millions of dollars, except per share amounts)
Q1-2018
Q1-2017
Variation
in %
Revenues
$501.7
$503.6
(0.4)%
Adjusted revenues (1)
461.9
503.6
(8.3)
Operating earnings before depreciation and amortization
154.7
89.0
73.8
Adjusted operating earnings before depreciation and amortization (1)
91.0
87.9
3.5
Operating earnings
123.5
62.4
97.9
Adjusted operating earnings (1)
66.1
61.3
7.8
Net earnings
58.2
42.7
36.3
Net earnings per share
0.75
0.55
36.4
Adjusted net earnings (1)
48.6
41.3
17.7
Adjusted net earnings per share (1)
0.63
0.53
18.9
(1) Please refer to the section entitled "Reconciliation of Non-IFRS financial measures" in this press release for adjusted data presented above.