Paper Packaging is an Oldie but a Goodie
Though plastic flexible packaging is the choice for many industries and name brands, paper packaging is still a mainstay in a wide variety of applications. Multiwall bags can be durable enough to meet the high speed and strength demands of the cement industry as well as attaining the particular barrier requirements of more sensitive products. Whatever your requirements may be, or the industry you're in: construction, chemicals, lawn & garden, or pet and consumer foods, we can tailor a multiwall bag that suits your needs. 
Paper or plastic? Why choose when you can have the best of both worlds. Our satchel bottom, pinch top bag contains an easy to remove tubular liner which is ideal for clean room applications. This bag is the blue-ribbon standard for dairy products, flour, sugar and more. 
TC Transcontinental Packaging utilizes only paper certified under the Sustainable Forestry Initiative®. As a customer, you can proudly display the SFI® on your packaging and tell consumers that the paper used to produce it comes from a company that is certified to the SFI 2015-2019 Fiber Sourcing Standard, comes from recycled content or from a certified forest.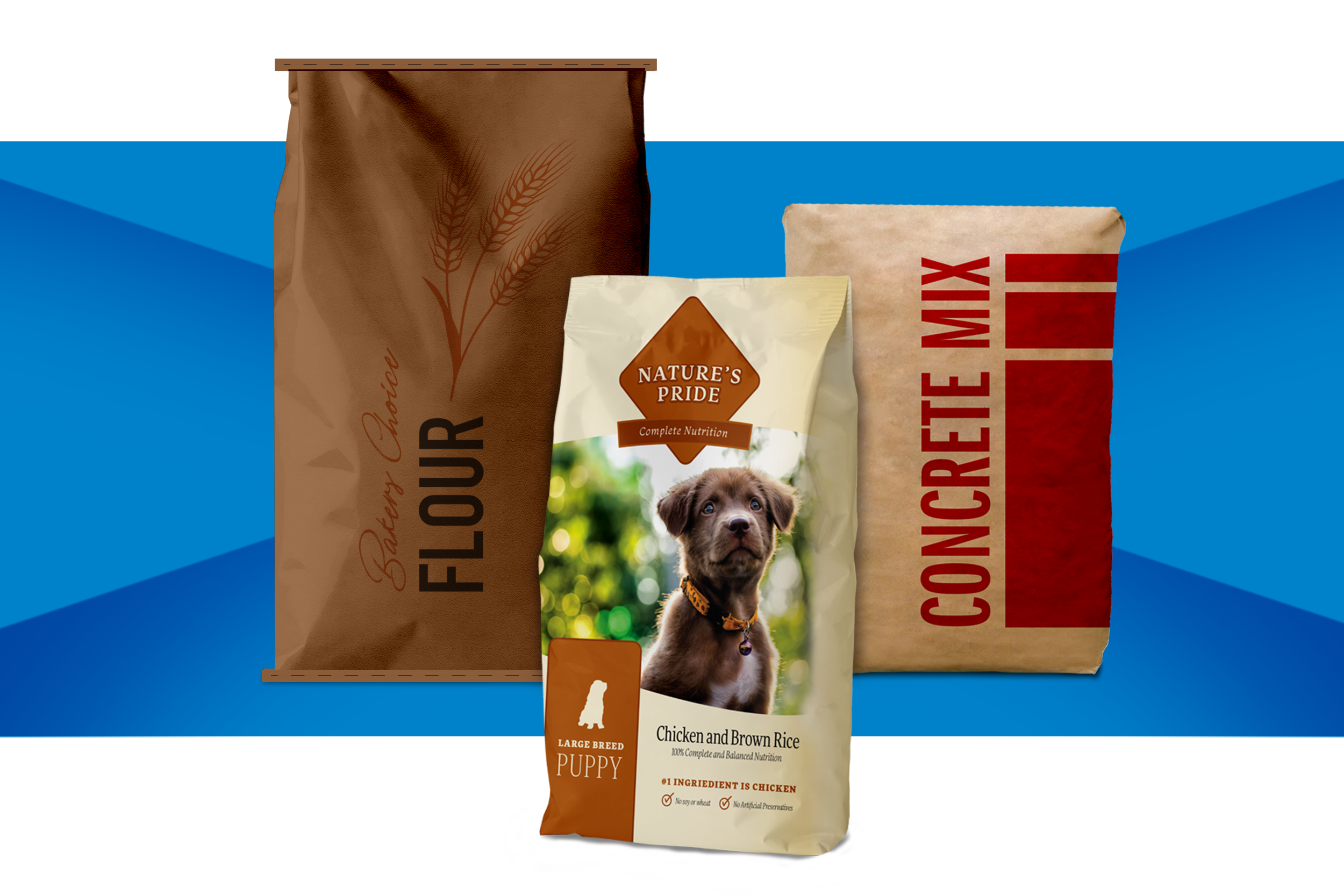 Pouch variety:  shapes and sizes for a wide range of applications including pet food, dairy, dry food ingredients, lawn & garden, chemicals & minerals, construction and more. 
Pasted Valve (PV)

Film lined or unlined
Sonic sealed, heat sealed or tuck in closures

Pinch (PBOM)
Satchel Bottom, Pinch Top (POM)

Removable liner
Clean room applications

Sewn Open Mouth (SOM)
Paper self-opening sack (SOS)
Pre made Microwave Popcorn susceptor bags
Providing form & function
Greater uptime and line speeds for fast fill rates
Barrier protection for reduced spoilage
Moisture resistant
Sift resistance
Cost effective option for dry goods
Perforated options for easy evacuation
Bags designed for ease of palletization 
Convenience Features
Sewn, pinch, tape, or slider closures
Hot melt closures, or weld sealable
High strength, super-durable bags
Venting features for easy evacuation
Packaging that's Art 
Tailored Solutions for Specific Market Needs