Publisac: a responsibly managed product
Did you know?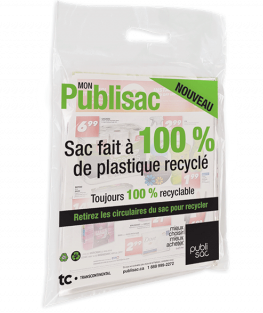 The new Publisac bag is now made from 100% recycled plastic, and is still 100% recyclable.

Flyers are printed on newsprint made of sawmill residues.  
 100% recycled and recyclable plastic bag
Over the summer 2019, we evaluated possible alternatives to our bag to further limit our environmental footprint. We are proud to have put on the market a new bag made from 100% recycled plastic, and still 100% recyclable. We have worked with RECYC-QUÉBEC to comply with best recycling practices. Learn more.

Separate the bag and the paper to help the sorting facilities
We committed ourselves to better inform citizens about the fact that the Publisac plastic bag is recyclable. In fact, separate the bag and the paper to help the sorting facilities.
 
 Recovery costs and material recycling 
In accordance with the Environment Quality Act, municipalities manage recovery services for recyclable materials, such as the Publisac, but companies that produce these materials are responsible for financing them. In Québec, companies that put containers, packaging and printed matter on the market must assume 100% of the net costs of efficient and effective municipal curbside recycling services, including those of sorting facilities. TC Transcontinental – the Publisac distributor – and its retailer customers pay several million dollars per year in contributions to ÉEQ, whom, in turn, redistributes these sums through RECYC-QUÉBEC to municipalities.
Reduction at source
Publisac is constantly evolving. We are continuously working with our customers to optimize the type of paper used, flyer formats and quantities distributed through better postal code targeting. We adjust the quantities of flyers distributed according to demand through several demographic and behavior variables.