Body
Labels for Health & Wellness
Providing brand protection and marketplace confidence. 
The ideal label helps you communicate as much information as you need to meet regulatory requirements and optimize your branding. 
We provide a variety of expanded content labels: peel & reseal, booklets, folded inserts and enclosures, along with braille labels that have detatchability options. We will guide you through the label design and printing process. You choose the option that fits your specific need. Our team will make it happen.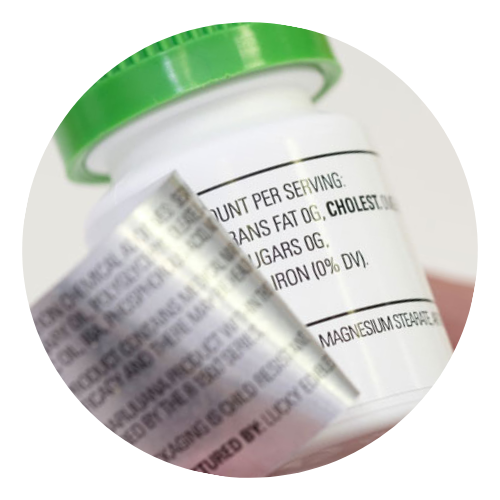 Applications
APPLICATIONS: Pharmaceutical, Nutraceutical, Chemicals, Cosmetics, and more.
Blocks
Text
Peel & Reseal  
3 full panels of label real estate 
Quiet zone of material where face layer is peeled back from its base… No need for consumer to fight with separation of like sized top and bottom layers 
Perfect for added multiple languages 
Nice opportunity to include cross-promotional offerings for other products 
Enough space to possibly eliminate the need for an outer carton  
Booklet Labels with Detachability Options 
Ample space allotment for legal verbiage and dosage guides 
Infinite number of pages able to be bound by several different methods before being laminated to the liner of your choice 
Innovative tab alternatives for elder and arthritic patients 
Internal tooling stations allow for making portions of booklet detachable 
Solid fit for addition of multiple languages 
Potential to post the information from your folded insert/onsert into the confines of a label
Braille Labels  
Rotary Screen printed Braille dots for consistency and durability 
All prepress operations and quality standards for post-printing inspection of Braille symbols strictly follow the Marburg Medium Font Specifications. Marburg Medium details the size, spacing and positioning of the braille dots. 
Our Esko platform verifies the following will result on press:

 Dot diameter is between 1.3-1.6mm 
Spacing between dots is 2.5mm from dot center of one dot to the center of its neighboring dot 
Line spacing is 10.0mm 
Above specs and validity of dot positioning are both verified by our GlobalVision systems 
Folded Inserts, Outserts and Enclosures  
Maximum sheet size 20.75" (530mm) in width x 56-11/16" (1440mm) in length Minimum sheet size 6-1/4" (160mm) in width x 8-1/4" (210mm) in length 
Minimum finished fold size for RTA Outserts = 1.125" (29mm) X 1.125" in height or 2" (51mm) in width by 1" (25.4) in height 
Maximum finished fold size = 6" in (152mm) width by 3" in height (77mm) 
Text
Solutions that work for you
Your success is our success. Our team works to create proprietary products that are reliable, protect your products, and keep your customers confident.
We are driven to create labels that support your success and provide peace of mind.