Critters, Litter
and Specialty
Packaging
Body
Packaging Solutions for All Sizes
Our team is here to support you in delivering on the needs of the market. We appreciate the unique demands of the petfood industry and are poised to deliver. We provide industry-leading solution and lead times that help you gain packaging and operational success while attaining the highest level of food safety. 
PRESERVE freshness and ensure palatability with custom-engineered film laminations. Featuring superior moisture, grease, water, and oxygen barriers to provide the ultimate product freshness and extended shelf life.
PERFORM with structures that keep your operation humming, and high-speed films to attain processing efficiency and consistent sealing.
PROTECT your product with custom crafted structures that deliver the highest standard of puncture resistance, are grease and water resistant, and stand up to the rigors of distribution.
Blocks
Product List
Image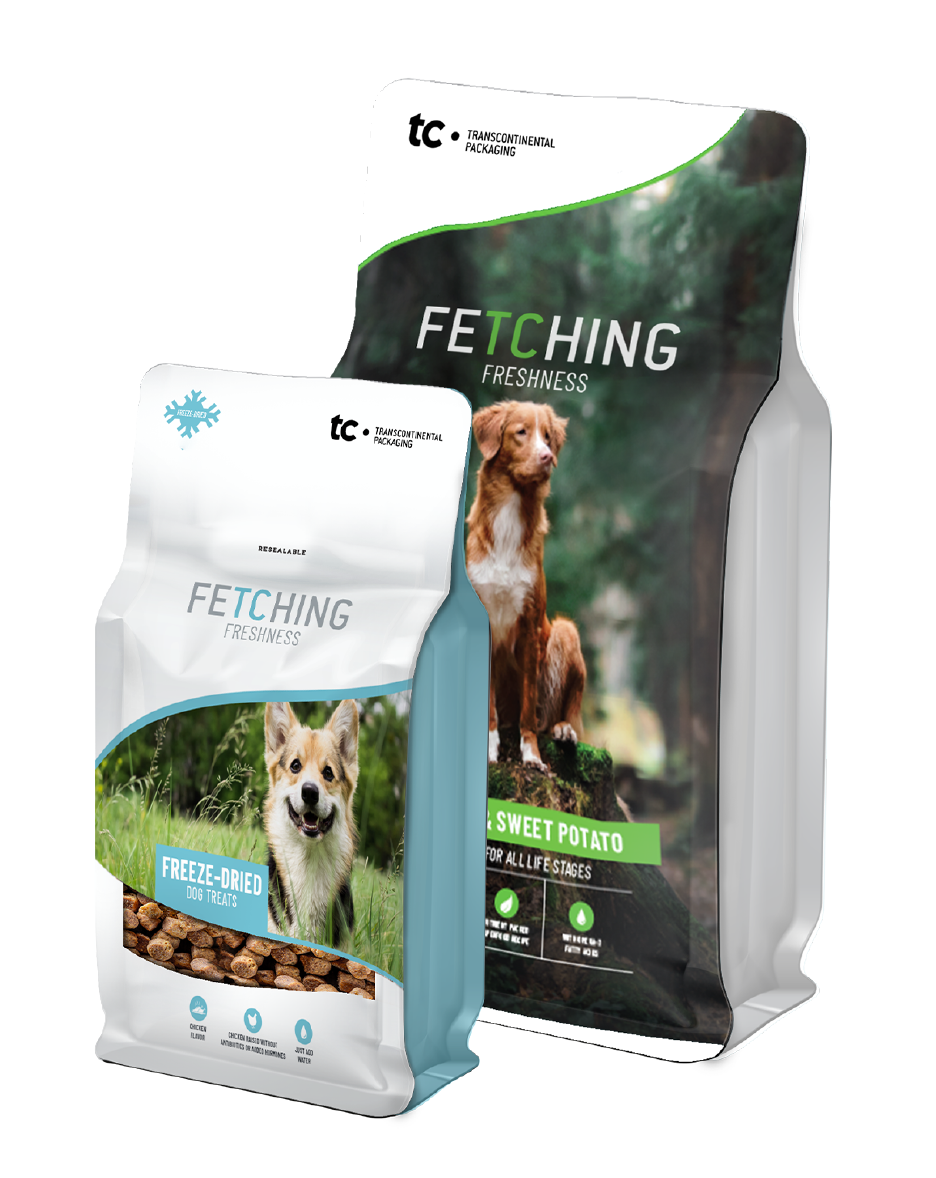 Text
Critters, Litter, & Specialty
Pets come in all sizes, shapes, and forms … not necessarily all furry. We craft tailored packaging solutions to meet the specifics of your product, be it heavyweight litter, feed and seed, or critter bedding. We have a package to fit your need.  
Custom crafted films that can handle heavyweight gravel, litter and feed, to lightweight value films for bedding to cater to all of your product needs
Available in a large range of formats including finished bags to meet product variety needs

Flat Bottom Pouches & Bags​
Quad Seal Pouches & Bags​
SUPs​
Rollstock​

Ventilation technologies allow for air evacuation to meet requirements for efficient palletization and product protection
Sustainable options available to appeal to the environmentally aware consumer.
APPLICATIONS

: Petfood
Text
Delight your Customer
Connect with your customer and integrate features that provide convenience both on the shelf and in the cupboard.
Easy-open features that maintain bag integrity, are frustration-free, and provide uncomplicated product access


Closure options that preserve product freshness and support simple storage and use: child-proof zippers, front-zippers, tape, and much, much more!


Windows to view product on side-panels, front, or back for consumer transparency


Form and function with handles, spouts, and unique shapes
Captivate and stand out on the shelf
Cut through the noise on shelf and allow your packaging graphics to stand out so consumers are reaching for you product
Outstanding, award-winning print: 10-color HD, and, ECG 7 Printing


Enhanced graphics with registered coatings: tactile, matte, gloss, & specialty 


Unique & luxurious images with metallization and de-metallization patterns & techniques


Convenience features such as easy open and re-closeable options to delight the consumer


Sustainable options to respond  to the environmentally aware consumer
Text
Did You Know?
Breakdown of Pet Ownership in U.S. (APPA Nat'l Pet Owners Survey) by Households (millions)

Text
Pets come in all shapes, sizes, and forms … some are feathered, some quite small, some don't have fur at all.
When looking for a packaging partner, it is imperative to choose one who has a deep understanding of structure development. One who can accurately develop a film that will measure up to your product's specifications and requirements.  
We begin every packaging project with a thorough understanding of the product requirements. From there, our R&D team works to deliver on a packaging solution that fits the bill no matter what pet you're serving.  They have the passion, experience, tools, and technology for a successful outcome.