Body
Hot N Handy® Rotisserie Pouches
A packaging solution designed for hot deli items.
Offers attractive eye-catching graphics to draw consumer attention to your profitable hot case items.
Pouches are available in multiple sizes for any appetite or occasion and feature a reinforced handle for easy carrying and a convenient recloseable zipper for easy access and storage of leftovers.
Large Window – increased area for viewing product
Reinforced Handle – maintains strength and rigidity
Proprietary Venting – helps product stay moist or crispy
Advanced Anti-fog Technology – keeps window clear, longer
Increased Sales – fits up to 30% more product in the deli case, helpful during peak shopping times
Easy Carry Handle – for consumer convenience
Leak Resistant – ends leaky messes from the deli case to the car
Customize your own Hot N Handy® Pouch to improve branding, promotion, and most of all -- sales!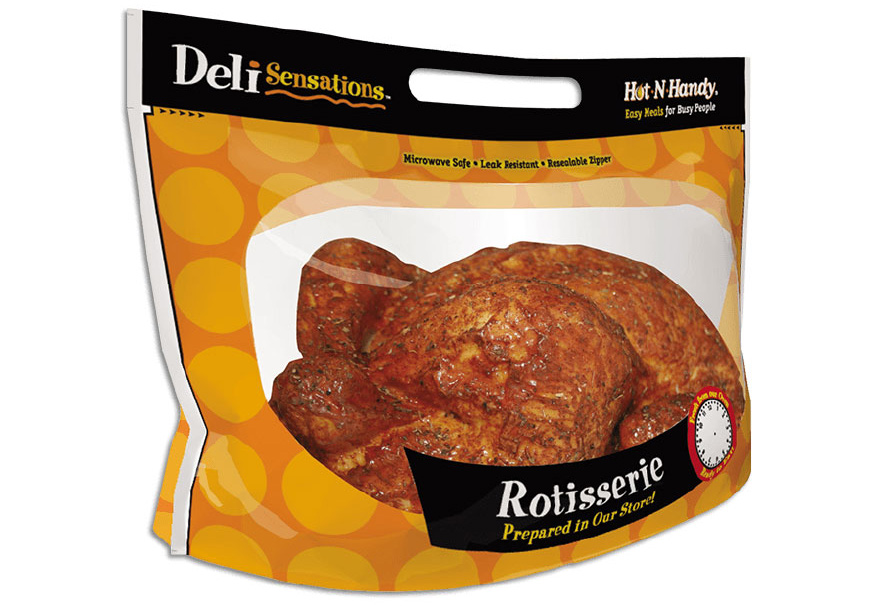 Blocks
Text
Our Commitments 
Research & development has resulted in pouch technology that has transformed the plastic packaging industry. 
Superior design makes our pouches reliable, efficient and the most advanced in the supermarket perimeter. 
Our pouches are simply the most effective packaging solution, offering exceptional options for customization.