Body
We've Got Flexible Packaging in the Bag!
Fill Your Bags With Profits!
Gain a competitive edge over your competition with new dimensions in flexible plastic packaging. Our arsenal of advanced, custom-engineered converting equipment in a multi-site platform gives us the ability to meet unbeatable lead-times and keep up with demand no matter the season or the reason.
If you want the consumer to choose your product, you'll need to deliver the package features that they find most appealing and support convenience.  You'd have to search far and wide to match the safety, security, structural, and visual features of our bags and pouches. They're available in a wide range of sizes from single serve pouches through to large industrial applications. And variety doesn't end with size. Choose from one of our many styles and shapes and features to fit your unique needs and have your customer's grabbing for ore.
Blocks

Background image

Hover image

63% of consumers want a  package that maintains freshness
Considered an important packaging feature when choosing a food/beverage product

51% of consumers want a package that is resealable
Considered an important packaging feature when choosing a food/beverage product

36% of consumers want a package that is easy pour/dispense
Considered an important packaging feature when choosing a food/beverage product
 
Text
Entice the Consumer
Add bag and pouch features that will stand out on shelf and provide the consumer with transparency 
Spouts, fitments, and pour solutions for liquids and easy dispensing 


Unique shapes for function, form, and novelty


Punch holes in a range of styles & shapes for in-store displays


Micro-perforations and venting for cook-in-bag options


Windows to view product view on side-panels, front, or back for consumer transparency


Rounded corners for design feature
Delight Your Customer
Connect with your customer and integrate  the convenience features they want 
Easy-open features that maintain bag integrity, are frustration-free




Gussets to provide uncomplicated product access  




RE-closure options that preserve product freshness and support simple storage and use: child-proof zippers, front-zippers, tape, and much, much more!




Incorporate handles to provide consumer convenience for heavy bags




Durable construction and reliable seals to hold up to heavy products for consumer confidence
Text
Did You Know?
By moving from a rigid container to a sustainable pouch you'll be significantly improving the environmental footprint of your packaging.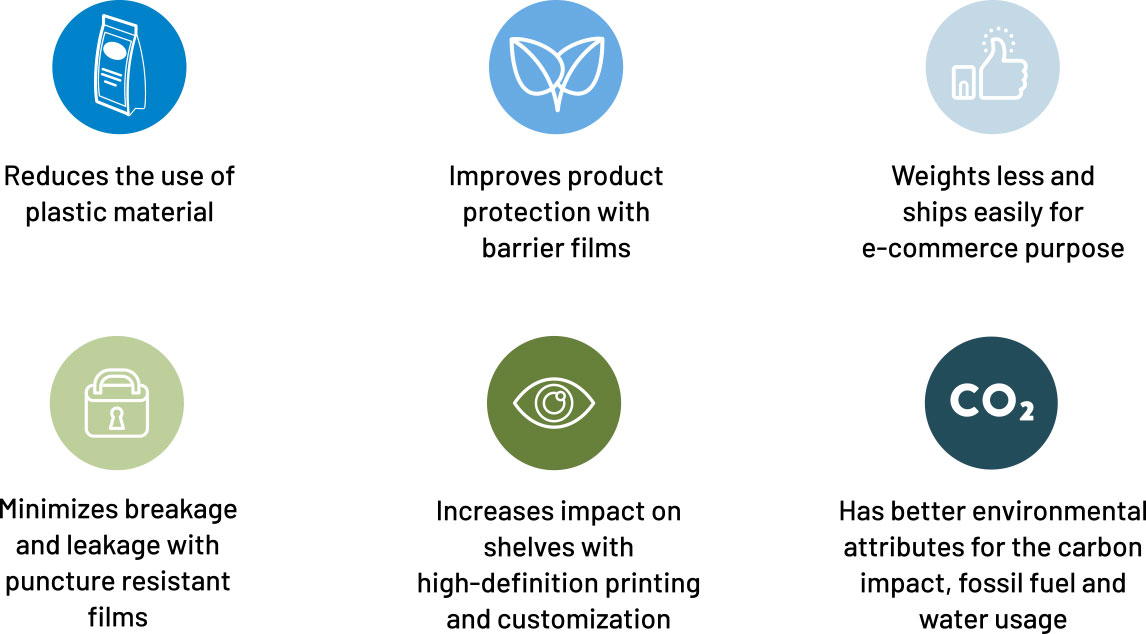 Text
No Matter the Market – We've Got the Bag Features for You!
Auto-wicketing capabilities for items such as diapers and feminine care products


Machine direction and contour laser scoring for micro and macro perforations for unique opening, cooking, and venting solutions


De-gassing valves applications for coffee


Ventilation technologies for air evacuation to meet requirements for efficient large bag palletization and load stability for industrial, chemical, lawn & garden, and pet food products.


Sustainable fitments, de-gassing valves and reclosure options that are suited to meet the requirements of environmentally responsible packaging
Text
4 Packaging Trends: What Is Important to the Consumer Today? 
- 1 -
To keep up with the accelerated growth of online food shopping, consumers are seeking durable packaging that will protect the products they need in a form they expect them
- 2 -
Seal-ability and portion-ability are in demand as it can help alleviate concerns related to food safety
- 3 -
Economy sizing such as value packs and multi-packs can offer value-focused options for consumers navigating a world of economic uncertainty
- 4 -
Heightened consumer awareness of environmental preservation is pushing the demand for sustainable packaging options