Body
The Crystal Clear Leader in Bone-in Bags & Films
We know meat & poultry. We understand the challenging, exacting, and rigorous demands of the industry. We provide industry-leading solutions that help you attain packaging and operational success while attaining the highest level of food safety. 
Masterfully crafted films and structures:
Protect your product and deliver the highest standard of abrasion and puncture resistance to stand up to the rigors of production and distribution.
Preserve freshness and flavor with the ultimate level of barrier to extend shelf life and keep your products tasty.
Perform in high-speed applications to keep your operation humming. Our specialty films are crafted to ensure optimal processing efficiency, minimized waste, and consistent/ reliable sealing.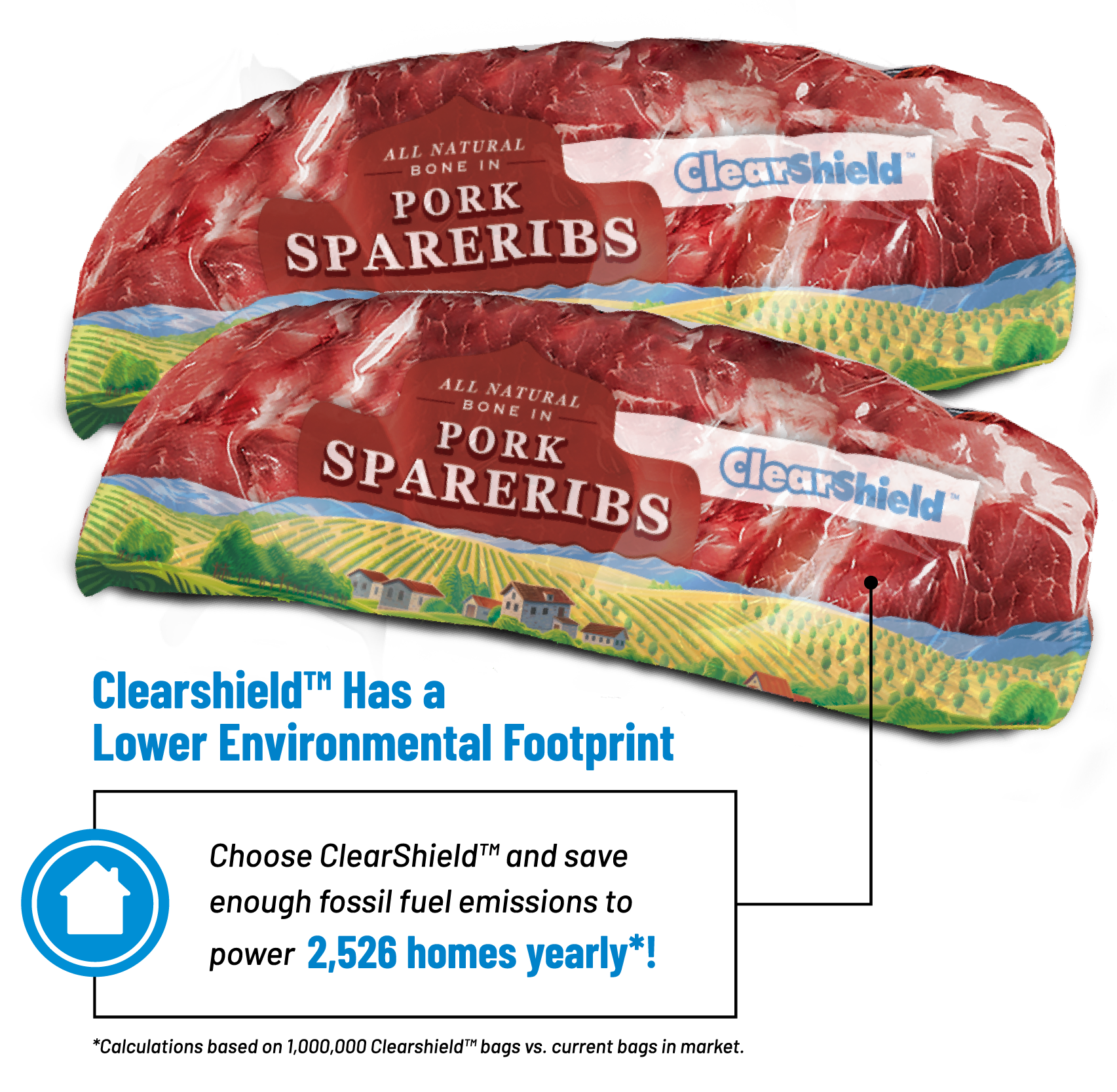 Blocks
Text
ClearShield™ Bone-in Shrink Bags
Clearshield is in a class of its own – with unparalleled crystal-clear shine, the proprietary co-extruded patch-free technology is durable and looks great at retail so your product will shine on shelf. 

Patch free bag technology that provides uniform puncture resistance for exceptional end-to-end durability 
Excellent high gloss finish for crystal-clear, haze free packaging
High-shrink technology eliminates unsightly tails, patches, and ends for tight-fitting, neat packages
Complies with the standard FDA/USDA food additive requirement for direct food contact
Available in shrink bags and tubestock for operational flexibility
Thinner gauge alternatives for institutional or case-ready options
Sustainable, with a lower environmental impact to appeal to the earth conscious consumer
Text
Pump up the Power on Your Autobagging Lines
By running Clearshield™ patchless bag technology with the TC AB490 Auto-bagging equipment you can reduce packaging costs by 20%. 
Run up to 35 bags/minute with the TC AB490, it's simple to integrate, easy-to-use, and better for your bottom line.

Click here

to learn more about our equipment technologies that support you in driving operational success.
CAPTIVATE and stand out at retail
Outstanding, award-winning print with 10 color printing on both sides of your package for vibrant images and enhanced shelf impact. 
Industry leading, exceptional glass-like gloss, crystal-clear, haze free packaging for high-quality product viewing.
Uniform seamless bags, eliminate unsightly seams and ears for a pristine package.
Text
Did You Know?
It's all about first impressions - it takes only 3 to 5 seconds for a consumer to notice a certain product among hundreds on a shelf and decide to purchase it. That's why your product packaging is vital – communicate freshness and quality so your customer will reach for your product.
Text
Packaging Attributes Important to Consumers