600 titles annually. We are Canada's leading magazine printer.
Experience counts! Along with our experience comes a deep understanding of the challenges facing magazine publishers today. TC Transcontinental Printing can help support you with your print needs.
We work with publishers of all sizes in both B2B and B2C markets. We offer you profitable solutions to help:
shorten your production cycle 
streamline workflow and reduce costs 
deliver high-quality, innovative products to a responsive audience
offer and propose creative printing solutions.
These solutions enable small- and mid-circulation magazines to enjoy many benefits enjoyed by larger competitors.
From high-circulation consumer titles through to independent short-run B2B magazines – we do it all!
Sustainable and responsible at heart
It's vital that we offer a wide range of sustainable options to publishers. Every day, we ensure that our printed products are produced in a responsible manner by reducing energy use, waste from operations, water consumption and air emissions. Consult our corporate social responsibility reports here.
Beyond the magazine
In addition to your magazine, TC Transcontinental Printing can produce all the print elements a publisher needs to reach out into new markets.
Special interest publications  
Circulation cards 
Direct mail programs  
Special inserts 
Maps and collateral print 
Books and catalogues
We are your partner at every stage of production, helping you to grow your business, attract new readers and increase ad revenue.
Peace of mind comes for knowing that the job will be done right. That's why we have built a printing network of 17 facilities strategically located from coast-to-coast. With multiple plants near the Canada-US border, TCTranscontinental Printing has the resources to meet the critical and demanding timelines of today's publishing industry. Complete bindery services, cover printing and many other special services combine to make us a single-source printer worthy of your trust. We are a one stop shop.
Single source...all under one roof.
Our primary focus is the printing and distribution of publications from start to finish. This includes managing the receipt of files, design, output of proofs, printing, and binding through to ink-jetting, poly-bagging and mailing – all under one roof.
We also provide complementary printing services to magazine publishers:
direct mail options
marketing products such as tips-on and blow-ins
large format signage and structural designs to ensure the high impact of your next issue on the newsstands.
Being creative and thinking outside the box gets a whole lot easier when you discover the potential of the multiple finishing and binding options within our network. We also offer the ability to serve national customers in the language of their choice due to our multiple locations and dedicated production teams.
Consider our coverage: coast-to-coast
As Canada's only printer with a coast-to-coast solution, we can easily put any one or more of our facilities to work serving your needs. Compatible workflows and equipment allow for the seamless transfer of work between facilities in our print network. Multiple magazine printing facilities located in Quebec, Ontario and Manitoba offer outstanding coverage plus the benefit of a shorter production cycle even if required to print in multiple regions.
With some of the world's most sophisticated web, sheetfed and heatset presses, as well as advanced digital technologies, we can quickly and cost-efficiently handle any combination of long and short runs for all types of publishers. All plants are fully compatible and linked electronically for ease and consistency, providing our customers with redundancy, contingency and continuity assurance.
With customer knowledge, investment in new technologies and continuous improvement approaches, we deliver results, quality and savings to our customers for their future growth.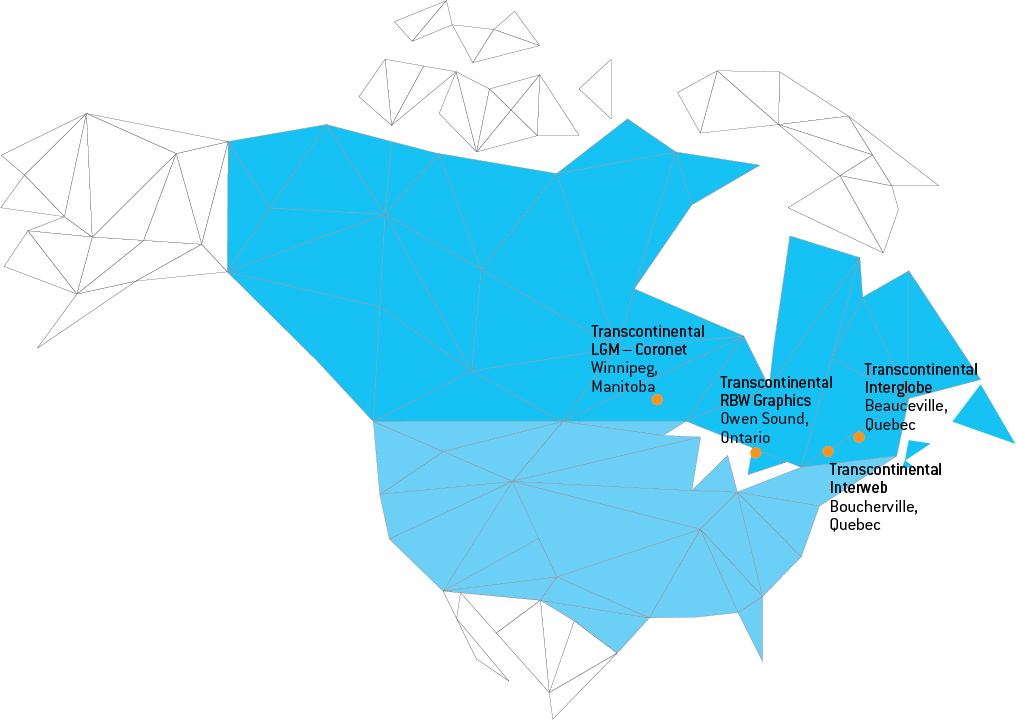 Transcontinental RBW Graphics

2049 Twentieth Street East
Owen Sound, Ontario, N4K 5R2
Telephone: 519 376-8330
Fax: 519 376-1164

Transcontinental RBW Graphics is our biggest magazine printing operation. Our operation features leading-edge prepress, press and finishing equipment.  From multiple bindery and stitching capabilities for fast turnaround of high volume projects to multiple offline finishing options, all are available in-house on high-end equipment. Another added benefit is that Canada Post picks up directly from the plant, meaning that no freight costs are charged to our customers for Canada Post delivery. To find out more, contact us directly.

Transcontinental Interweb

1603, de Montarville Blvd.
Boucherville, Quebec   J4B 5Y2
Telephone: 450 655-2801  
Fax: 450 641-3650 

Transcontinental Interweb specializes in the printing of short to medium-run magazines. Our extensive finishing department offers a host of custom services including gatefold capabilities on press, special cover finishes such as UV Chic varnish and spot UV, as well as die cutting, perforating and glueing – all executable inline. To find out more, contact us directly.

Transcontinental LGM – Coronet

737 Moray Street
Winnipeg, Manitoba   R3J 3S9
Telephone: 204 982-1717 
Toll Free: 1 800 665-3316
Fax: 204 889-9897

Transcontinental LGM – Coronet specializes in the printing of short to medium-run publications for Business 2 Business and Business 2 Consumer markets. With over 50 years of graphic arts management experience, we have developed an excellent reputation for working with independent niche publishers. Our flexibility and responsiveness to the special demands of their markets have proven a profitable benefit for all. To find out more, contact us directly.

Transcontinental Interglobe

150, 181st Street
Beauceville, Quebec   G5X 3P3
Telephone: 418 774-3367 
Toll Free: 1 800 463-8952
Fax: 418 774-3380

Transcontinental Interglobe is in a stand-alone category when it comes to the exceptional quality and diversity of its bindery department. No other printing facility in Canada offers such a comprehensive range of binding services. Including soft covers such as perfect bound, soft notch, sewn, otabind and gatefold options, as well as hard covers such as case bound, hard notch, with jacket and pullout, among others. To find out more, contact us directly.
The magic of our printing toolbox is choice. Lots of choice! This provides publishers with an opportunity to expand their magazine's reach, readership and advertising revenues.
From high-circulation consumer titles to independent short-run B2B magazines, TC Transcontinental Printing offers multiple cost-effective solutions for your titles. Come and explore this potential for your future growth.
Peek inside our magazine printing toolbox.
From creative and compelling covers to engaging and productive inserts, we can accommodate all kinds of special requests from magazine publishers. Our in-house web, sheet-fed and digital printing equipment enables us to respond quickly helping publishers succeed in a highly competitive and rapidly changing marketplace.
We offer a wide variety of formats, paper and finishing options for your publishing needs. Take a closer look:
Print Options

Format:

Standard Magazine
Digest
Tabloid
Upright
Slim-jim
Square tab

5th colour
Special UV coatings
Scented inks
Scratch-off

Paper Options

Coated
Uncoated
Lightweight
Environmental paper stocks

Finishing Options

Stitching
Perfect binding
Poly-bagging
Tipping
Ink-jet imaging
In-line personalization
Selective/demographic binding
Die-cutting
Read-Match-Mail
Specialty finishing
Dot-whacking
Perforations
Stickers
Scents

Creative Covers Options

Gatefold covers
Interactive covers
UV chic varnish
Matte varnish
Acqueous varnish 
Spot UV varnish
Varnish
Increase your ad revenues via innovative print technologies
Staying on top of innovative print technologies is critical for publishers who want to help advertisers reach their target audience in a faster, less expensive and more creative way. Let's start with ways to punch up your cover and other revenue-generating ideas:
Synthetic cover papers

Synthetics like Yupo are 100% recyclable, waterproof and tree-free. Yupo holds ink with razor-sharp precision that stands out on the newsstand or in the mail stack. Synthetics also add value to source books and other special issues with a longer shelf life.

Flip-book cover

Engage the reader with a cover image that they can create – again and again.

Lenticular printing

Produces images with an illusion of depth or movement. Eye-catching ways to capture reader's attention to content and ads.

Peel and reveal covers

The ability to peel away a portion of the cover to reveal a full-colour message provides additional highly valuable real estate to supplement the coveted inside front cover. It's also a clever way to incorporate interactivity while committing very little advertising space to the actual front cover. It's a "best of both worlds" scenario.

Special folds

Creative folds are effective and economical. Nothing pulls like cover ads, and research shows that special folds attract even greater attention. Gatefolds are the most popular and create a powerful cover spread. Double gatefolds, also called panoramic spreads, offer a spectacular foldout spanning both covers. They work extremely well as a centre spread, too.

Tip-ons

Especially in booklet, business card, coupons, credit cards or sachets form, tip-ons can communicate long or complicated messages. They can also be easily removed for future reference, and the advertiser may already have an existing piece to use.

Dot whacks and positionable notes

Dot whacks are available in many different colours, substrates and shapes (business card, coupons, credit cards, sachets, etc.). Positionable notes are great for capturing attention, while also providing a removable reminder for contact information or other messaging.

Bind-ins and blow-ins

Great for measuring ROI through coding. They also serve as a postal mailing device. Plus, the heavier paper provides stopping power by "breaking the book."
Use digital printing to target precise markets
We offer a full range of digital print solutions to meet any publishing or marketing need including:
Static digital printing for reaching target audience economically
Colour-variable data digital printing for customized text and images on each page
Personalized messaging from contest codes to personalized URLs
Selective binding system and new OCR systems for selected inserts.
All aimed at transforming a single magazine into a highly personalized, digitally targeted marketing device that will generate results for you and your advertisers.
Our Tech Tools Put You In Control.
Managing and tracking your magazine production just got a whole lot easier! With TC Transcontinental Printing, you can get your job uploaded, checked, approved and done faster right from the comfort of your office.
Our web-based, self-service tech tools are specially designed for multi-page projects. They provide job management, tracking and colour management that help drive efficiencies in today's collaborative workflow environment.
Tech tools for magazine publishers.
Conceive, build, manage and monitor print projects – from concept to distribution – all from the convenience of your desktop. Our magazine production teams can customize workflow solutions to your specific needs. These solutions save time and resources while reducing errors by providing real-time visibility into your projects. Take a closer look.
Job Assistant

A secure, web-based virtual proofing workflow built to serve teams of any size working remotely from any part of the world
Review the same hi-res PDF that will go to press, assuring consistent colour and quality
Trackable notes, comments, chats, approvals and history are centralized in one place
Offers different levels of signing authority based on each team's role.

Virtual Proofing Workflow

As mentioned above, the same PDF reviewed in JA, once approved, will make its way to press with the same controls in place all the way through the production process
Industry standard SWOP colour profiles for press are used to ensure colour accuracy, consistency and predictability from beginning to end
Allows virtual soft proofing, rather than physical colour proofs, for accurate colour proofing when combined with a certified colour calibrated monitor.

Auto Colour & Automated Image Enhancement

Takes advantage of sophisticated automation software to handle the bulk of standard general-purpose colour enhancements.
Still leaves more complex colour correction to the image edit professionals where necessary
Speeds up the turnaround time for edits to be completed due to batch processing, saving time and money. 

Virtual Press-Side Proofing

As part of the JA workflow, when combined with a certified colour calibrated monitor, industry standard SWOP colour profiles are applied to files, and used for online proofing
Allows operators to accurately proof colour on-screen
Utilizes same profiles and colour controls that will be used press-side
Eliminates proofing paper costs, time and courier charges.

Closed-Loop Colour & Automated Register Controls

Presses at Transcontinental RBW Graphics are equipped with Closed-Loop Colour and Automated Register Controls, resulting in faster startups and automatically maintained target colour values throughout the press run
Works seamlessly with Virtual Colour Proofing.
We offer the following newsstand distributions solutions for the US market. 
Looking for ways to create longer advertising life cycles, reduce distribution costs and improve vital delivery efficiency for your magazines? Look to TC Transcontinental Printing. We can help.
We put postal optimization to work for you.
As Canada's largest mailer, with Canada Post delivery from our dock and extensive experience with USPS mailing, we can deliver cost-efficient distribution throughout North America for the publishing industry.
Consider the following newsstand distribution solutions:
Co-Palletization

Bundled magazines are grouped with others going to the same destination. This is particularly useful for small- to mid-circulation magazines that don't have the volume going to any given postal facility to make the minimum pallet size of 200 pounds.

Co-Mailing

Magazine titles from different publishers that mail within a specific time frame are combined offline into a single mail stream to generate greater postal discounts.

Drop Shipping

Magazines and other printed materials are shipped independent of the postal system to mailing facilities closer to the final destination to take advantage of postal discounts and speed delivery.
As part of the postal optimization program, we can help you evaluate lighter-weight papers and alternative trim sizes to reduce costs without compromising your brand image.

C-TPAT is a joint government/business initiative to build cooperative relationships that strengthen overall supply chain and border security.
View all videos