Body
Specialty Bags & Pouches
Fill Your Bags With Profits!
Gain a competitive edge over your competition with new dimensions in flexible plastic packaging. Our arsenal of advanced, custom-engineered converting equipment in a multi-site platform gives us the ability to meet unbeatable lead-times and keep up with demand no matter the season or the reason.
If you want the consumer to choose your product, you'll need to deliver the package features that they find most appealing and support convenience. You'd have to search far and wide to match the safety, security, structural, and visual features of our bags and pouches. They're available in a wide range of sizes from single serve pouches through to large industrial applications. And variety doesn't end with size. Choose from one of our many styles and shapes and features to fit your unique needs and have your customer's grabbing for more.
Blocks
Text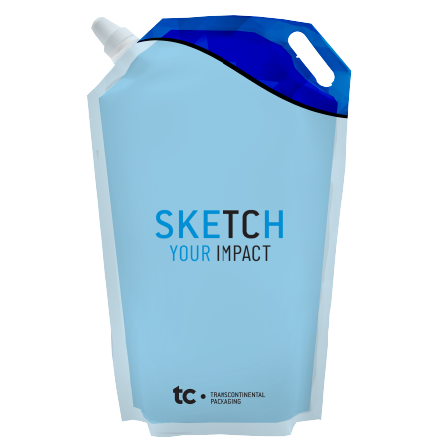 Shaped Pouches
Standing out on shelf is of great importance – as is providing consumer convenience. Shaped pouches are one of the latest creative packaging solutions to provide novelty and function.
Shaped pouches have enormous flexibility in terms of both shape and size and can be used in many applications for liquids to dry contents and are an excellent sustainable solution when moving from rigid to flexible packaging.
User friendly design which is apt for storing a wide range of liquid products.
Compared to normal PET or glass bottles, spouted pouches are easier for transport and perfect for retail shelves.
Customized size and shape as per requirement and specification.
Ideal for novelty shapes and to stand out at retail.
Text
Specialty Bags for Supermarkets
Shopping and eating habits are changing, with those changes comes an ever-growing focus on the fresh perimeter.
We're leading the charge with exciting, branded packaging solutions for Supermarket's Deli, Bakery, and Produce sections with our Hot N Handy® Rotisserie Pouch known for its ease of use, leak resistance, and transformative consumer convenience.
The Fresh N Tasty® Bakery Pouch follows with stay-fresh barrier pouches featuring high-visibility windows.
But our offerings don't stop there. Our bulk produce pouches hold a variety of products that save time and give consumers the ability to purchase preselected, prepackaged fresh produce within seconds.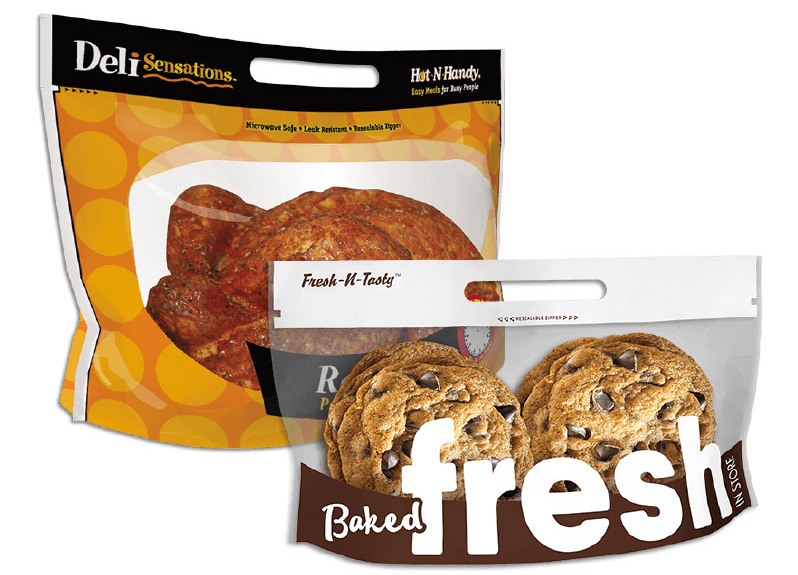 Text
Industrial/Chemicals/Building Products Bags
Poly R-Pac/Back Valve Bag
Ideal for powdered chemicals, ice melt and fertilizers. 
One or two-ply construction for durability
Provides moderate environmental protection 
Low melt for batch inclusion options 
Overlapping back valve for easy filling eliminating the need for standard bag closure equipment 
Handles, pockets, perfing, powder venting, embossing for convenience optimization 
Customizable with side gusset 
Poly Side Seal Open Mouth
Ideal for sand, stone, fertilizer and halite
Customized laminated bag with eye-catching graphics enables better branding and greater shelf presence 
Available with handles, bottom gussets, offset lip for convenience optimization 
Custom engineered construction 
Bottom Seal Open Mouth Poly Bags (BSOM)
Ideal for salt pellets and fertilizer., these bags are made from continuous tubing which reduces seal surfaces to prevent product loss.
Heavy duty, leak and moisture resistant to maintain bag integrity.
Reduced shrinkage and product loss for less waste.
Various extrusion films available for custom needs including low melt for batch inclusion, and high temperature blends.
Customizable to your specifications (size and printing options.
High seal performance packages contents securely to prevent gaps on closure.
Text
ADSL/Poly Valve Bags
Ideal for petrochemicals, flaked or prilled minerals, fertilizers, and salts. Rugged, easy to fill and self-closing.
Offers protection against moderate environmental conditions.
Various extrusion films available for custom needs including low melt for batch inclusion, and high temperature blends.
High filling rates to increase line speed - excellent for highly automated systems.
Sift-proof capabilities and off-set pinhole perforations for sift-proof capabilities.
Up to 10" top and bottom for easy filling.
Improves pallet footprint for increased warehouse efficiency.
Printed Poly Tubing
Ideal for petrochemicals, flaked or prilled minerals, and pelleted salt
Most dependable FFS construction with tight package for best footprint.
Custom extruded film available in several varieties for unique product needs.
Minimal seal surfaces to maintain package strength and integrity.
Large rolls for reduced roll changes to ensure throughput.
Gusseted tubing designed for fully automated form, fill & seal (FFS) machines
Plain or with random or registered print
Large rolls for reduced roll changes to ensure throughput.
Text
Entice the Consumer
Add bag and pouch features that will stand out on shelf and provide the consumer with transparency
Spouts, fitments, and pour solutions for liquids and easy dispensing




Unique shapes for function, form, and novelty




Punch holes in a range of styles & shapes for in-store displays




Micro-perforations and venting for cook-in-bag options




Windows to view product view on side-panels, front, or back for consumer transparency




Rounded corners for design feature
Delight Your Customer
Connect with your customer and integrate the convenience features they want
Easy-open features that maintain bag integrity, are frustration-free




Gussets to provide uncomplicated product access




Re-closure options that preserve product freshness and support simple storage and use: child-proof zippers, front-zippers, tape, and much, much more!




Incorporate handles to provide consumer convenience for heavy bags




Durable construction and reliable seals to hold up to heavy products for consumer confidence
Text
No Matter the Market – We've Got the Bag Features for You!
Auto-wicketing capabilities for items such as diapers and feminine care products


Machine direction and contour laser scoring for micro and macro perforations for unique opening, cooking, and venting solutions


De-gassing valves applications for coffee


Ventilation technologies for air evacuation to meet requirements for efficient large bag palletization and load stability for industrial, chemical, lawn & garden, and pet food products.


Sustainable fitments, de-gassing valves and reclosure options that are suited to meet the requirements of environmentally responsible packaging
Text
We Aim to Make It Easy
We understand that flexibility is critical in attaining business success. We offer a vast range of custom shapes and sizes along with an expansive variety of convenience features for form and function. If it's a new need or a concept that is in its infancy – we'll innovate to bring it to life for you.
We're an agile partner that can manage your fluctuating volume needs, deliver short runs or high quantities, and offer VMI and make, hold, and ship programs to allow you to effectively manage your inventory.