Premium
Loose Tea
Packaging
Body
We're packaging baristas when it comes to keeping your coffee fresh
Global tea revenue is expected to grow each year by 6.9% until 2023. Tea is the second most popular drink in the world, with water in first place.
(Statista)
There is a reason for tea's popularity, it's delicate flavor, wide variety of blends, and social appeal make for a great beverage experience. We appreciate the value of preserving tea quality for consumers enjoyment and understand the unique industry demands. We provide industry-leading flexible packaging solutions & lead times for premium loose leaf teas, including sustainable ones, that help you gain packaging success while attaining the highest level of food safety. 
Our Films: 
Preserve the delicate freshness and aroma of your teas with the ultimate level of barrier. Our films extend shelf life and maintain flavor integrity for consumer indulgence and enjoyment. 
Perform in high-speed applications to keep your operation humming. Our specialty films are crafted to ensure optimal processing efficiency.
Pronounce your brand message with beautiful packaging graphics. Our color management expertise ensures your package will shine. Is your message sustainability? We'll deliver on that need without sacrifice.
Blocks
Product List
Image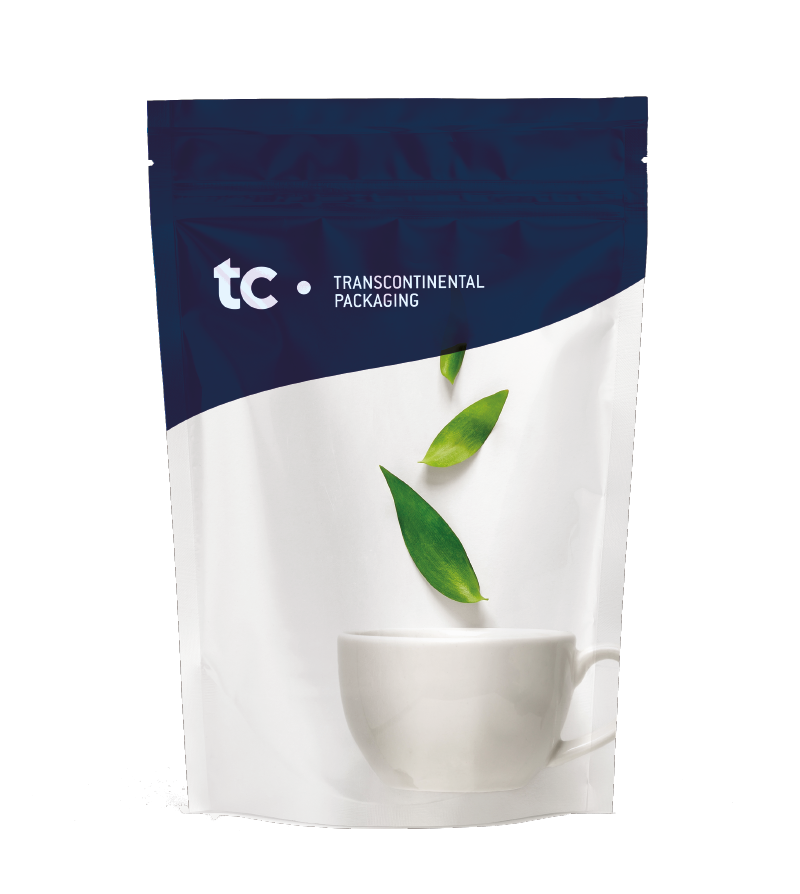 Text
Finished Bags & Pouches for Premium Loose Teas
To preserve freshness and spotlight your premium brand we have finished bag and pouch solutions with a high level of barrier to protect your loose leaf teas.
Wide range of finished bag styles to provide you with options that suit your needs
Easy open and reclose features for consumer convenience and reliable storage
Ability to offer short run, low quantities, as well as high volume, to equally meet the needs of the independent or large-scale tea producer
Sustainable packaging solutions to meet the demands of the environmentally conscious consumer
Text
Switching to Sustainable Packaging
62% of consumers believe a range of players have responsibility for environmentally friendly choices, manufacturers top the list.
This creates an opportunity for food manufacturers to take a lead in this important arena. 
53% of consumers also think that packaging manufacturers hold responsibility, showing their expectation for innovation in packaging with more recycled, reusable, biodegradable and compostable packaging. (Mintel)
As pioneers in sustainable coffee flexible packaging, we can work with you to meet the growing consumer demand for packaging that doesn't become waste.
Captivate the Consumer
Outstanding, award-winning print: 10 –color HD, and, ECG 7 Printing


Enhanced graphics with registered coatings: tactile, matte, gloss, & specialty 


Unique & luxurious images with metallization and de-metallization patterns & techniques


Convenience features such as easy open and re-closeable options to delight the consumer


Sustainable options to respond to the environmentally aware consumer
Text
Did You Know?
Do you store your tea near your coffee or in your spice cabinet? Don't. Store your tea away from "strong, competing aromas" so that you keep the tea's own delicate flavors intact.
Another way to ensure your tea's sublime flavors remain intact is to use packaging that provides the ultimate barrier protection and will preserve its fine quality.
When choosing a flexible packaging solution for your premium tea, choose a partner who is adept at mastering flexible packaging and ensures your product's flavor will shine. Packaging that will uphold your brand promise and have consumers indulging in your product again and again.