Cereal, Grains,
Dry foods
Packaging
Body
Premium packaging for premium products!
Premium products deserve premium packaging. 
Our team is here to support you in delivering on the needs of the market and your consumer. We know and appreciate the industry demands, and are poised to deliver. We provide industry-leading solutions& lead times that help you gain packaging and operational success while attaining the highest level of food safety. 
Our Films:
Preserve the freshness of your granola and grains with the ultimate level of barrier.  Our films extend shelf life and maintain flavor and quality integrity to preserve your product so it remains the rewarding healthy meal it is intended to be.
Perform with our specialty films, crafted to ensure optimal processing efficiency and reliable sealing.  Our packaging products are created to yield high run speeds, minimum down time, and consistent quality. 
Pronounce your brand message with beautiful packaging graphics. Our high-definition printing, specialty coating and metallization techniques combined with color management expertise ensures your package will entice consumers.
Blocks
Product List
Image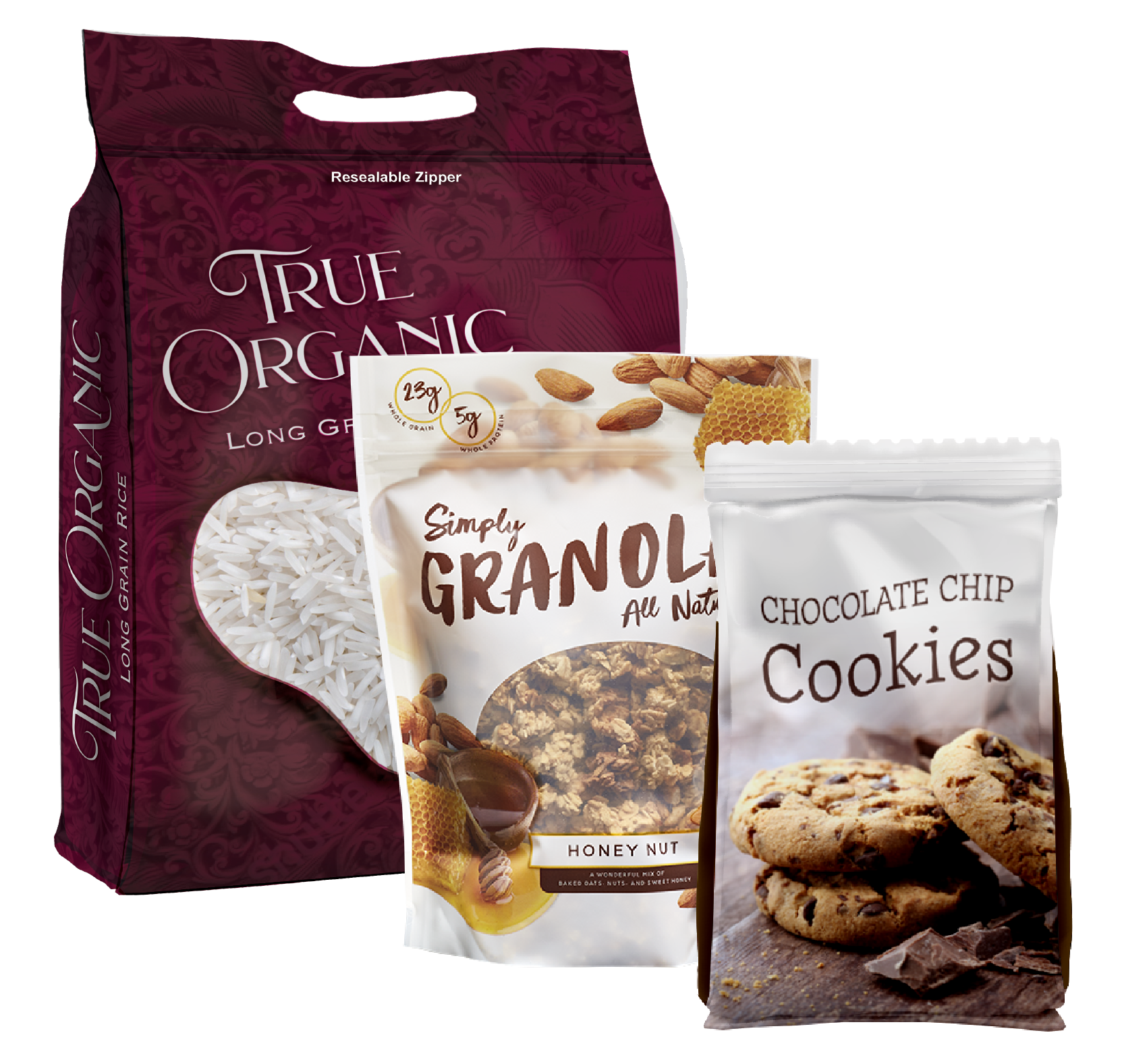 Text
Finished Bags & Pouches
We know you want to make consumers happy and providing convenient packaging in pouches gives them the option to eat it now, or save some for later in resealable bags. We provide premium packaging solutions for granolas, grains, and cereals to meet the rising demand of healthy, select, products packaged in high-barrier bags and pouches.  
High barrier options for optimized shelf life and product freshness
Bag Sizes ranging from small to large to  accommodate a range of solutions from single serve to club packs 
Variety of

bag styles

to meet all product needs: 

Stand Up Pouch
Flat Bottom 
Quad Seal
Custom Shaped Pouches 

Range of convenience features for easy opening and reliable reclose for later enjoyment
APPLICATIONS:

Nuts, Bars, Confections, Cereals, Grains
Text
Delight your Customer 
Features that maintain package integrity, are frustration-free, and provide uncomplicated product access 
Closure options that preserve product freshness and support simple storage and use: child-proof zippers, front-zippers, tape, and much, much more! 


Windows to view product on side-panels, front, or back for consumer transparency 


Easy open features such as laser scoring and tear notch, and a wide range of recloseable options to maintain freshness after opening.


Handles, spouts, and unique shapes for form and function 
Captivate the Consumer
Cut through the noise on shelf and allow your packaging graphics to stand out so consumers are reaching for you product 
Outstanding, award-winning print: 10 –color HD, and, ECG 7 Printing


Enhanced graphics with registered coatings: tactile, matte, gloss, & specialty 


Unique & luxurious images with metallization and de-metallization patterns & techniques


Sustainable options to respond to the environmentally aware consumer