Monthly Magazine ELLE Québec Surpasses Own Decade-high Record with Over 108,000 Newsstand Sales!
Montreal, September 19, 2012 – The August 2012 issue of ELLE Québec magazine, a TC Media brand, sold a record 108,122 copies in newsstand sales[1], over and above its 61,018 monthly subscriptions, thanks to its exclusive story on the Véronique Cloutier and Louis Morissette wedding. In addition to this exceptional result, ElleQuebec.com website experienced a significant increase in its number of visitors, generating more than 450,000 page views 24 hours after the magazine launch.[2]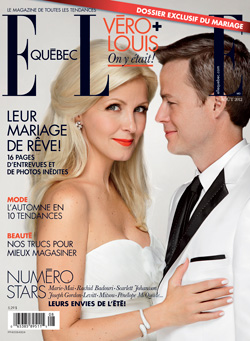 Given the couple's celebrity status and great popularity among Quebecers, the ELLE Québec team decided to go big, printing 95,400 copies for newsstands alone—double the usual number. Since that wasn't enough to meet such high demand, more copies were printed. This resounding success shows how well magazines capture the beauty and simplicity of major events. The medium is the perfect way to touch readers' hearts, giving them a unique window into the lives of their favourite stars.
"The wedding of Véronique and Louis, one of Quebec's most glamorous couples, was a natural fit with the style and mission of ELLE Québec," said Lise Paul-Hus, Vice-President, Montreal Consumer Solutions, TC Media. "The aim was to give the couple quality coverage, while offering fans photographs that faithfully captured the emotion of the event. It was also vital that we respect the private nature of the day for both the couple and the family. It was a wonderful adventure of mutual trust."
The editorial strategy for this exclusive story was to cover it not only in print, but also on other platforms—including social media, video, e-mail and web—before, during and after the magazine was released. The marketing for the issue was backed by a major ad campaign that included television, radio, out-of-home and TC Media digital network initiatives. Support by our distributor, Messageries de presse Benjamin, and various retailers also helped with the outreach for this exclusive issue, resulting in extraordinary sales figures. It is still possible to get a digital version of the issue here.
Photo credits: Patrizia Castelione and Tania Lemieux
Journalists: Martina Djogo and Violaine Charest-Sigouin
Recap of the August 2012 issue of ELLE Québec
Véro and Louis said "I do" and chose ELLE Québec to immortalize their magic moment! On June 30, 2012, ELLE Québec had the opportunity to walk through the church doors and witness this much-anticipated wedding. With 16 pages of exclusive coverage and photos, the August release allowed readers to relive the wedding day in its entirety, as if they were right there! For the first time ever, Véro and Louis introduced their children to the media, placing complete confidence in ELLE Québec . . .
About TC Media
One of Canada's leading providers of media and interactive marketing solutions, TC Media offers a comprehensive line of products and services and an integrated approach to activating customers' marketing. TC Media is one of Canada's largest media groups, reaching 22 million consumers through its multiplatform offering. The group, which has about 3,800 employees, owns a number of major consumer and business media brands that are leveraged across multiple platforms. TC Media is also the leading provider of local and regional information in Quebec and the Atlantic provinces through its extensive network of community papers and online portals. It is owner of the Métroweekday daily in Montreal and co-owner of Metro Halifax. It is also the leading door-to-door distributor of advertising material in Canada, with Publisac in Quebec and Targeo in the rest of Canada. TC Media is a leader in the digital industry in Canada in media properties and online advertising representation. With its extensive network of more than 3,500 websites, TC Media reaches 18.7 million unique visitors per month in Canada. The group offers interactive marketing solutions that harmonize strategy, content and multichannel distribution systems to build lasting relationships between brands and consumers. TC Media also employs its expertise and proprietary software to anticipate and meet consumer needs by means of the new interactive means of communication: mobile, data analytics, email marketing, e-flyers and custom content and communications. TC Media is also active in book publishing and distribution and is the largest publisher of French-language educational resources in Canada.
TC Media is a brand of Transcontinental Inc. (TSX: TCL.A, TCL.B, TCL.PR.D), which has about 10,000 employees in Canada and the United States, and reported revenues of C$2.0 billion in 2011. For more information about the corporation, please visit www.tc.tc.
- 30 -
For more information or interview requests:
Media
Katherine Chartrand
Director of Internal and External Communications
TC Media
Telephone: 514 392-2091
katherine.chartrand@tc.tc
---
[1]Based on ELLE Québec's sales records since 1996
[2]Source: Google Analytics, July 2012