Transcontinental Inc. announces the results of the sale process of the weekly newspapers in Quebec designated by the Competition Bureau
Montreal, September 3, 2014 – Transcontinental Inc. (TSX: TCL.A, TCL.B, TCL.PR.D) announces the completion of the sale process involving 33 weekly newspapers as required by the Competition Bureau with respect to the June 1, 2014 transaction to acquire the 74 weekly newspapers of Sun Media Corporation in Quebec and their related Web properties. Out of the 33 newspapers put up for sale, 14 have found buyers. Of that number, three will continue to be published as weekly papers and 11 will now be published online only.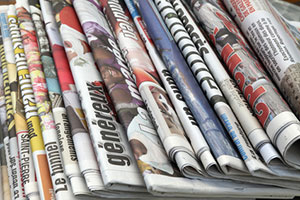 Le Journal de Saint-Hubert (Saint-Hubert) and Le Rive-Sud Express (Longueuil) have been bought by Les MÉDIAS de la  Rive-Sud, and L'Écho du Nord (Saint-Jérôme) has been purchased by Éditions Blainville Deux-Montagnes. The company Néomédia is buying the following papers and plans to publish them online only: Agri-Vallée (Valleyfield), Chambly Express (Chambly), Le Journal de Joliette(Joliette), Le Point du Lac-Saint-Jean (Saint-Félicien), Le Réveil (Saguenay), L'Écho de la Rive-Nord (Sainte-Thérèse), L'Écho de Laval (Laval), L'Écho de Trois-Rivières(Trois-Rivières), Pub Extra Magazine (Laval-Laurentides), Sorel-Tracy Express (Sorel-Tracy) and Vallée-du-Richelieu Express (Mont-Saint-Hilaire).
On June 1, 2014, the Competition Bureau and Transcontinental Inc. concluded a consent agreement whereby 33 weekly papers from Transcontinental's portfolio would be put up for sale: 11 that had been launched or acquired in the past few years and 22 Sun Media newspapers, most of which had also been introduced since 2010. All these papers are published in markets which already have a number of other weekly newspapers.
Reorganization of the Transcontinental Inc. weekly papers in Quebec
In the wake of this announcement, Transcontinental Inc. is also announcing that it is reorganizing its weekly newspaper portfolio and effective today will stop publishing 20 of its titles, which for the most part will be integrated with other publications it holds in the same regions. The decisions related to the reorganization were made with a view to ensuring that communities continue to receive relevant local information and that the greatest possible number of jobs are kept.
List of TC Media newspapers in Quebec
The list of the 20 papers follows:
Region

Titles that are no longer being published

Titles that remain in these regions

Abitibi-Témiscamingue

 

L'Abitibi Express – Val-d'Or
L'Abitibi Express – Rouyn-Noranda

Le Citoyen de la Vallée de l'Or
Le Citoyen de l'Harricana (Amos)
L'Écho-Abitibien (Val-d'Or)
Le Citoyen Rouyn-Noranda
Le Citoyen Abitibi-Ouest
La Frontière

Bas Saint-Laurent

Le Progrès Écho
Le Rimouskois
Le Saint-Laurent Portage

L'Avantage (Rimouski)
Le Courrier du Fleuve
L'Information Mont-Joli
L'Avant-Poste (Amqui)
Le Régional (monthly)
Vision (monthly)
Busin'est (monthly)

Centre-du-Québec

L'Impact de Drummondville
L'Écho de Victoriaville

L'Express de Drummondville
La Nouvelle Union (Victoriaville)
L'Avenir de l'Érable (Victoriaville)

Chaudière-Appalaches

Beauce Média (Sainte-Marie)
Éclaireur Progrès (Saint-Georges)
Hebdo régional (Saint-Georges)
La Voix du Sud (Lac-Etchemin)
Le Courrier Frontenac (Thetford Mines)
Le Peuple Lotbinière (Laurier Station)
Le Peuple Lévis

Estrie

Le Reflet du Lac (Magog)
Les Actualités d'Asbestos
Le Progrès de Coaticook
Le Journal de Sherbrooke

Gaspésie

La Voix de la Matanie – Matane
La Voix Gaspésienne
Le Riverain – Sainte-Anne-des-Monts

L'Avantage Gaspésien (Matane)
Le Havre (Chandler)
Le Transgaspésien  (Gaspé)
Le Pharillon (Gaspé)
L'Aviron (Campbellton)
L'Écho de la Baie (New Richmond)

Lanaudière

L'Hebdo Rive-Nord (Repentigny)
L'Action de Joliette
L'Action d'Autray (Berthierville)
Le Trait d'Union (Terrebonne)
L'Express Montcalm (Saint-Lin)

 

 

 

 

Laurentides

 

 

 

Le Point de vue Laurentides
L'Écho de la Lièvre

L'Information du Nord – Mont-Tremblant
L'Information du Nord – Sainte-Agathe
L'Information du Nord –Vallée de la Rouge
Journal Le Courrier (Sainte-Thérèse)
Le Mirabel
Journal Le Nord (St-Jérôme)
Journal des pays d'en haut La Vallée (Saint-Sauveur/Sainte-Adèle)

Mauricie

L'Hebdo du Saint-Maurice (Shawinigan)
L'Hebdo de Maskinongé (Louiseville)
L'Hebdo Journal (Trois-Rivières)
L'Écho de la Tuque
Le Courrier Sud (Nicolet)

Montérégie

Châteauguay Express
Roussillon Express – (La Prairie)
L'Écho de Saint-Jean-sur-Richelieu
Valleyfield Express

L'Œil Régional (Beloeil)
La Seigneurie (Boucherville)
Brossard-Éclair
Courrier du Sud (Longueuil)
Journal de Chambly
Le Soleil (Châteauguay)
Le Reflet, Delson
The Gleaner – La Source (Huntingdon)
Le Journal de Saint-Bruno
L'Information Sainte-Julie
Le Canada Français
Le Richelieu
Les 2 Rives, Sorel
La Voix, Sorel
Le Soleil de Salaberry-de-Valleyfield 
Le Journal Saint-François
Granby Express
L'Avenir / Des Rivières (Farnham)
Le Guide (Cowansville)
Coup d'œil (Napierville)
L'Information d'Affaires Rive-Sud (monthly)
Sortir (monthly)
Unfortunately, the changes required by this reorganization will involve about 80 layoffs out of the 1800 employees in the TC Media Local Solutions team, which is the TC Transcontinental Inc. division in charge of weekly papers in Quebec. Transcontinental Inc. wishes to thank these employees for their dedication to the company and has made arrangements for them to receive professional assistance in their career transitions.
TC Media now has a consolidated portfolio of close to 120 titles in Quebec. For the complete list, please see the document on the TC Transcontinental website.
About TC Transcontinental
Largest printer and a leading provider of media and marketing activation solutions in Canada, TC Transcontinental creates products and services that allow businesses to attract, reach and retain their target customers. The Corporation specializes in print and digital media, the production of magazines, newspapers, books and custom content, mass and personalized marketing, interactive and mobile applications, door-to-door distribution, and also manufactures a range of flexible packaging products in the United States.
Transcontinental Inc. (TSX: TCL.A, TCL.B, TCL.PR.D), including TC Transcontinental, TC Media, TC Transcontinental Printing and TC Transcontinental Packaging, has over 9,000 employees in Canada and the United States, and revenues of C$2.1 billion in 2013. Website www.tc.tc.
-    30 -
For information:
Media
Nathalie St-Jean
Senior Advisor, Corporate Communications
TC Transcontinental
Telephone: 514-954-3581
nathalie.st-jean@tc.tc
Financial Community
Jennifer F. McCaughey
Senior Director, Investor Relations and
External Corporate Communications
TC Transcontinental
Telephone: 514-954-2821
jennifer.mccaughey@tc.tc