Transcontinental Inc. receives clearance from the Competition Bureau to acquire the Sun Media weekly newspapers in Quebec
Montreal, May 28, 2014 – Transcontinental Inc. (TSX: TCL.A, TCL.B, TCL.PR.D) announced today that it has received clearance from the Competition Bureau to acquire the 74 weekly newspapers owned by Sun Media Corporation in Quebec and their related Web properties, a transaction announced on December 5, 2013. Under the terms of the agreement with the Competition Bureau, the Corporation must put up for sale, for a 60-day period, 34 of the 154 weekly newspapers in its portfolio, including some that are part of the transaction with Sun Media. Most of the weekly newspapers being put up for sale were launched in recent years.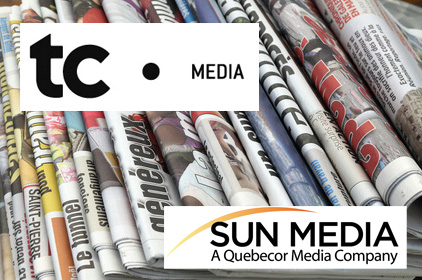 The sale process has been placed in the hands of a third party, Mallette LLP, a professional chartered accountant firm, who will be acting totally independently of Transcontinental Inc.
The following is the list of weekly newspapers being put up for sale, in alphabetical order.
Transcontinental Inc. (TC Media) – 12 weekly newspapers
Abitibi Express – Rouyn-Noranda, Rouyn-Noranda
Abitibi Express – Val d'Or, Val-d'Or
Chambly Express, Chambly
Châteauguay Express, Châteauguay
Courrier du Saguenay, including its regional editions: Courrier du Fjord, Courrier de Jonquière and Courrier de Chicoutimi
Édition Beauce Nord, Sainte-Marie
Point de vue Laurentides, Mont-Tremblant
Rive-Sud Express, Longueuil
Roussillon Express, La Prairie
Sorel-Tracy Express, Sorel-Tracy
Vallée du Richelieu Express, Mont-Saint-Hilaire
Valleyfield Express, Valleyfield
Sun Media – 22 weekly newspapers
Agri-Vallée, Valleyfield
La Voix de la Matanie, Matane
La Voix Gaspésienne, Matane
L'Écho de Laval, Laval
L'Écho de la Rive-Nord, Sainte-Thérèse
L'Écho de Repentigny, Repentigny
L'Écho de Saint-Jean-sur-Richelieu, Saint-Jean-sur-Richelieu
L'Écho de Shawinigan, Shawinigan
L'Écho de Trois-Rivières, Trois-Rivières
L'Écho de Victoriaville, Victoriaville
L'Écho du Nord, Saint-Jérôme
Le Courrier du Fleuve, Rimouski
Le Journal de Joliette, Joliette
Le Journal de Magog, Magog
Le Journal de Saint-Hubert, Saint-Hubert
Le Point du Lac-Saint-Jean, Saint-Félicien
Le Progrès Écho, Rimouski
Le Réveil, Saguenay
Le Rimouskois, Rimouski
Le Riverain, Sainte-Anne-des-Monts
L'Impact de Drummondville, Drummondville
Pub Extra Magazine, Laval-Laurentides

Conclusion of transaction
Over the next few days, in conjunction with the sale of weekly newspapers, Sun Media and Transcontinental Inc. will finalize their transaction. During this period, the Sun Media weekly newspapers will remain the property of Sun Media. Once the transaction has been completed, Transcontinental Inc. will become the owner of all acquired Sun Media weekly newspapers, including those put up for sale.
Once the sale period has expired, Transcontinental Inc. will review its portfolio in order to ensure the sustainability of the weekly press in Quebec, by continuing to offer relevant local information on a multitude of platforms, in all the regions of the province where it is present.
"We are pleased with this decision, which allows us to close the transaction and combine the strengths of both companies," said François Olivier, President and Chief Executive Officer of Transcontinental Inc. "We are enthusiastic that we will soon be able to welcome the employees of the Sun Media weekly newspapers in Quebec. Despite having to put some weekly newspapers up for sale, this transaction will add about $20 million to the operating earnings before amortization of Transcontinental Inc. and further advance the local multiplatform offering for businesses and communities."

About TC Transcontinental
Largest printer and a leading provider of media and marketing activation solutions in Canada, TC Transcontinental creates products and services that allow businesses to attract, reach and retain their target customers. The Corporation specializes in print and digital media, the production of magazines, newspapers, books and custom content, mass and personalized marketing, interactive and mobile applications, door-to-door distribution, and also manufactures a range of flexible packaging products in the United States.
Transcontinental Inc. (TSX: TCL.A, TCL.B, TCL.PR.D), including TC Transcontinental, TC Media, TC Transcontinental Printing and TC Transcontinental Packaging, has over 9,000 employees in Canada and the United States, and revenues of C$2.1 billion in 2013. 
-     30 -
For more information:
Media
Nathalie St-Jean
Senior Advisor, Corporate Communications
TC Transcontinental
Telephone: 514-954-3581
nathalie.st-jean@tc.tc

Financial Community
Jennifer F. McCaughey
Senior Director, Investor Relations and External Corporate Communications
TC Transcontinental
Telephone: 514-954-2821
jennifer.mccaughey@tc.tc