Transcontinental Inc. reports on voting results associated to the election of directors at its annual meeting of shareholders
Montreal, March 10, 2016 – Transcontinental Inc. (TSX: TCL.A TCL.B) held its Annual Meeting of Shareholders yesterday. All of the candidates proposed as directors were elected by a majority of the votes cast by the shareholders present or represented by proxy at the meeting: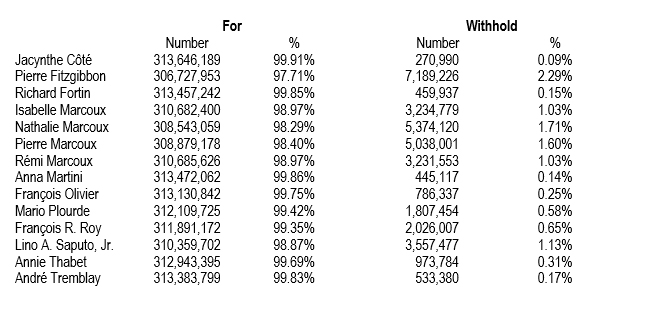 About TC Transcontinental
Canada's largest printer, with operations in print, flexible packaging, publishing and digital media, TC Transcontinental's mission is to create products and services that allow businesses to attract, reach and retain their target customers.
Respect, teamwork, performance and innovation are strong values held by the Corporation and its employees. The Corporation's commitment to all stakeholders is to pursue its business and philanthropic activities in a responsible manner.
Transcontinental Inc. (TSX: TCL.A TCL.B), known as TC Transcontinental, has over 8,000 employees in Canada and the United States, and revenues of C$2.0 billion in 2015.  
- 30 –
For information:
Media
Nathalie St-Jean
Senior Advisor, Communications
TC Transcontinental
Telephone : 514-954-3581
nathalie.st-jean@tc.tc
Financial Community
Jennifer F. McCaughey
Vice President, Communications
TC Transcontinental
Telephone : 514-954‑2821
jennifer.mccaughey@tc.tc