Protein-specific packaging for a growing market
Protein is the rage, and consumers love meat. Beef, pork, and poultry remain strong center-of-plate entrees both at home and away. Our packaging solutions focus on key benefits like enhancing shelf appeal, reducing costs, improving line efficiencies, reducing leakage, and improved sustainability vs. other products.
Our meat & poultry packaging solutions include ClearShield® patchless bone-in technology, Envio® forming films, Nextrus® boneless vacuum shrink bags, and TuffTite® fresh or frozen poultry bags. And our Versaflex® in-line off-line bagging equipment ideal for providing "on demand" bagging of fresh, refrigerated boneless meat.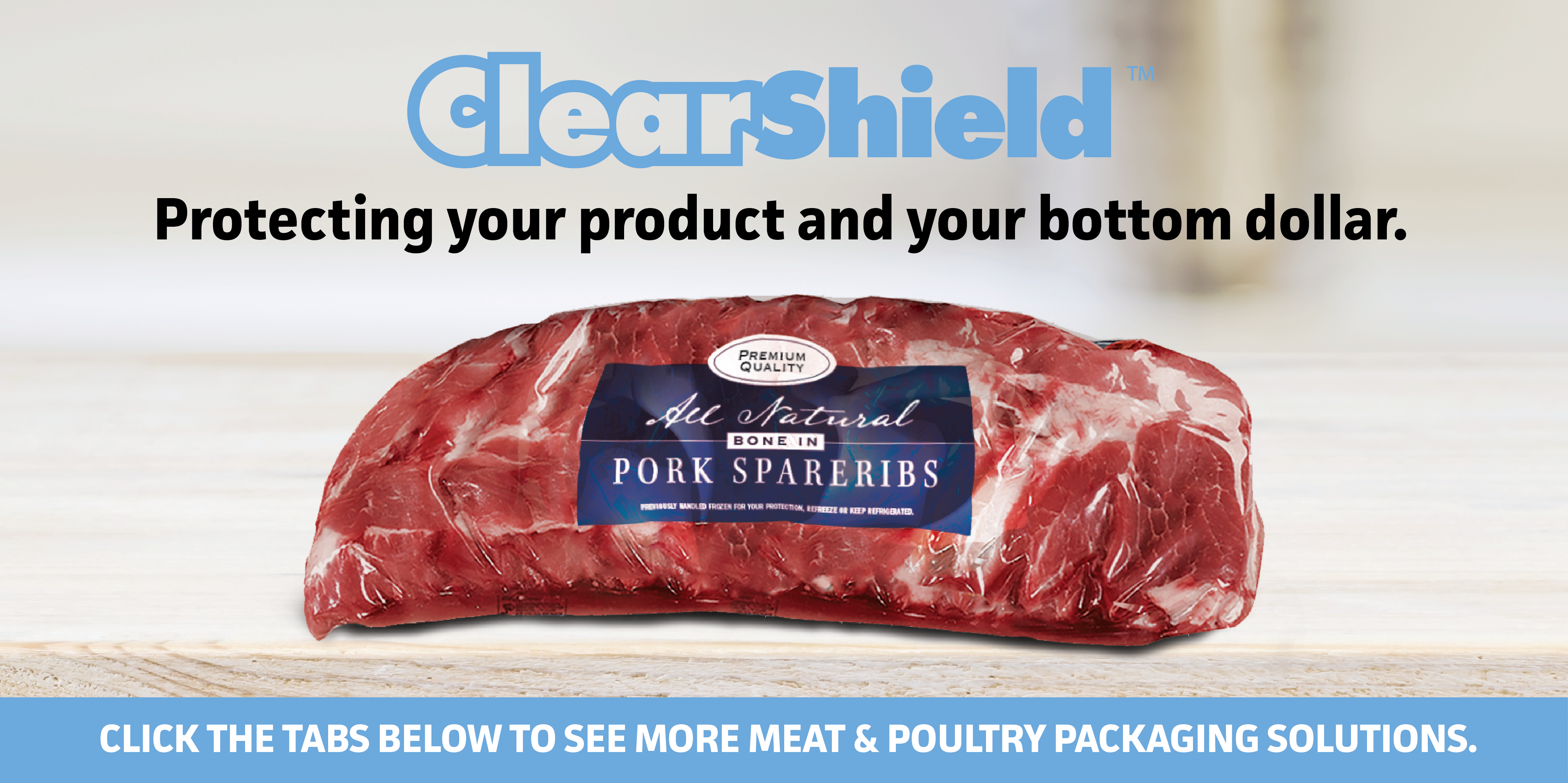 Boneless Shrink Bags
Bone-In Shrink Bags
Poultry Shrink Bags
Forming &
Non-Forming Films
Chub Films
Versaflex® in-line off-line bagging equipment
The next generation of shrink bags, easy-to-use, tough-to-abuse.

Durable, abrasive and puncture resistant films
Exceptional moisture and oxygen barrier, proprietary sealant and extrusion technology
High shrink performance, conforms tightly to product, minimizes tears and maintains vacuum tightness
Proven machineability for equipment efficiency
Food safety first, SQF Level 3 certified

Nextrus®

Boneless Vacuum Shrink Bags

Superior optics with glass-like clarity
Excellent high gloss finish
2-sided, high-quality, 10 colour graphics
Available in shrink bags or tubestock for Versaflex® in-line off-line bagging equipment

Maraflex®

Low temperature shrink (LTS)
Complies with the standard FDA/USDA food additive requirements for direct food contact

Maximum impact and toughness that's a cut above

Proprietary co-extrusion patch free bag technology
Durable, abrasive and puncture resistant films
Exceptional moisture and oxygen barrier, proprietary sealant and extrusion technology
Wide sealing range, seals through pleats & brine
Proven machinability for equipment efficiency
Food safety first, SQF Level 3 certified

Clearshield®

Crystal-clear, haze-free packaging
Excellent high gloss finish
Complies with the standard FDA/USDA food additive requirements for direct food contact
Available in shrink bags and tubestock
Thinner gauge alternatives for institutional or case-ready

Poultry bags that are tough AND beautiful for fresh & frozen poultry

High shrink for package tightness
Durable, abrasive and puncture resistant films
Wide seal range for challenging whole bird applications
Low stiffness for tight package after evacuation
Food safety first, SQF Level 3 certified

TuffTite® Poultry Shrink Bags 

Excellent high gloss finish and opacity
High-end graphics with up to 10-colour, 2-sided printing for vibrancy and shelf appeal
Available in clear, white, or cream colored bags
Available in non-barrier for extended poultry shelf life

Best in class forming films for fresh and processed meats

Outstanding seal integrity
Durable, abrasive and puncture resistant films
Precise gauge control for consistent roll profile (+/- 2%)
Widest processing window for forming, sealing and tracking
Food safety first, SQF Level 3 certified

Envio® Films

Proprietary, first to world water quench forming films

Superior optics with glass-like clarity
Excellent high gloss finish
Easy peel, peel reseal, hermetic, and lock-up seals
Wide sealing range, seals through contamination
High and low barrier options

Keeping it fresh

Chub films for ground beef application
Laminations that provide shelf life for refrigerated applications
Exceptional moisture and oxygen barrier
High speed films and structures for efficient processing
SQF certified plants

Chub films

Excellent slip characteristics provide smoother packaging on high-speed equipment
Exceptional oxygen barrier
Puncture resistance to withstand abuse and clips
Low stiffness for easy filling
Produces consistent, superior seals throughout
Wide operating window for sealing
High elasticity prevents splitting upon filling

"On-Demand" in-line/off-line bagging equipment for fresh, refrigerated boneless meat

Customized bag sizes on-line, on-demand
Print on-line, date and time stamping, logos, USDA marks, lot tracing
Simple and robust design
Easy to maintain
Works seamlessly with Clearshield® and Nextrus® tubestock

Versaflex® in-line off-line bagging equipment

Presents cost savings through reduced inventory
Increased fulfillment speeds
Improved traceability
Eliminates product obsolescence