Building Products
Packaging
Body
Protecting Your Products, Brand, and Business
Our team is here to support you in delivering on the needs of the market. We appreciate the unique and rigorous demands of the industry and are poised to deliver. 
PERFORM with films that keep your operation humming, have proven high-speed machinability and allow you to attain optimal filling and processing efficiency. 
PROTECT your product with custom crafted structures that deliver the highest standard of puncture resistance to stand up to the rigors of the environment, the demands of the product, and distribution.
PRONOUNCE your brand message with exceptional packaging graphics. Our color management expertise ensures your package will shine. Is your message sustainability? We'll deliver on that need without sacrifice.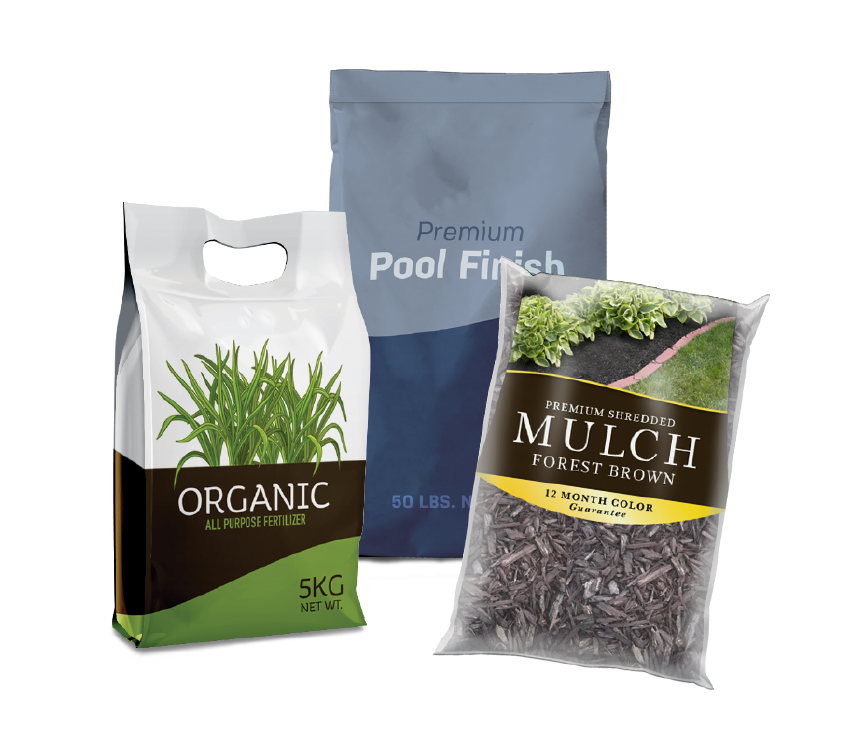 Blocks
Text
Bottom Seal Open Mouth Poly Bags (BSOM)
Ideal for loose materials such as granules, insulation fibers, pellets, and pebbles. These bags are made from continuous tubing which reduces seal surfaces to prevent product loss.
Heavy duty, leak and moisture resistant to maintain bag integrity


Reduced shrinkage and product loss for less waste


Various extrusion films available for custom needs including low melt for batch inclusion, and high temperature blends


Customizable to your specifications (size and printing options)


High seal performance keeps contents secure and prevents gaps on closure
APPLICATIONS:

Industrial use 
Printed Poly Sheeting (Form, Fill & Seal)
Ideal for roll wrap and barrier sheets.
Available with high resolution graphics to promote your brand at retail


Laminated structures to provide custom product protection


Collation shrink grades and extruded films available to suit your operational needs
Poly R-Pac 
Ideal for powdered chemicals, ice melt and fertilizers. 
One or two-ply construction for durability


Provides moderate environmental protection


Low melt for batch inclusion options


Overlapping back valve for easy filling eliminating the need for standard bag closure equipment


Handles, embossing, powder venting for convenience optimization
APPLICATIONS:

Industrial use 
Industrial Chub Films
Our metallized, multilayer Chub films deliver:
Proprietary, specialized barrier and chemical resistant structure and foil construction to stand up to chemical products


Uncompromised toughness to stand up to the high abuse of processing and transport domestically or overseas


Low minimum orders and customized ordering combinations provides great flexibility and versatility


Available with 10-color high definition printing to stand out at retail
APPLICATIONS:

Industrial use