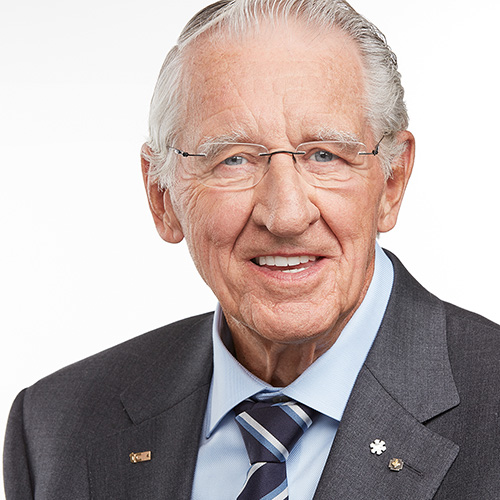 Rémi Marcoux, C.M., O.Q., FCPA, FCA
Founder and Director,
Transcontinental Inc.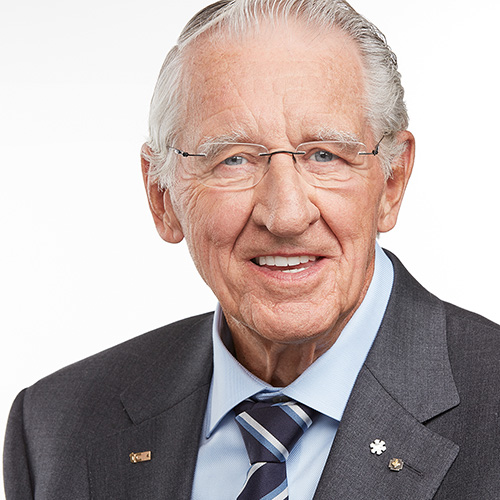 Rémi Marcoux founded Transcontinental in 1976 and was Chief Executive Officer until 2004, when he became Executive Chairman of the Board; he held that position until February 16, 2012, at which time he decided to slow the pace of his work somewhat. He remains a member of the Board of Directors. "My dream," notes Rémi Marcoux, "was to build a company that would reflect my values, such as respect for employees and partners, customer service that exceeds expectations, integrity, innovation and passion for a job well done."
Since the 1976 acquisition of a small print shop in Ville Saint-Laurent with about 30 employees, TC Transcontinental has forged its success by always putting the customer first. Today, the company has a presence in Canada and the United States, and employs close to 6,500 people. The mission remains the same: help businesses attract, reach and retain their target customers. A visionary and passionate entrepreneur, Rémi Marcoux enabled the Corporation to steadily evolve, transform, diversify its activities and foster strong values to ensure its continuity. Today, TC Transcontinental is Canada's largest printer, a key supplier of flexible packaging in North America and a leader in its Canadian specialty media segments.  
Some of the charitable causes to which Rémi Marcoux is particularly committed include Centraide of Greater Montreal – having co-chaired the 2006 annual fundraising campaign – and the Montreal Heart Institute Foundation. Rémi Marcoux is also the co-founder of the Institut des communications graphiques et de l'imprimabilité, located in Montréal. In addition, he has served on various boards of corporations and organizations including Canadian Tire, the Montreal Heart Institute Foundation and the Lucie and André Chagnon Foundation, to name a few. At HEC Montréal, he served on the institution's Board of Directors for many years as well as on its International Advisory Board. He currently acts as a mentor to young companies. 
In addition, in 1991, he contributed to the establishment of the Carmelle and Rémi Marcoux Chair in Arts Management at HEC Montréal. More recently, in 2013, the Rémi Marcoux Entrepreneurial Track was also created at HEC Montréal through a personal donation by Mr. Marcoux and TC Transcontinental. This program aims to provide young people with the entrepreneurial skills to launch or acquire a company, or take over a family business.
Rémi Marcoux has received notable recognition for his achievements over the years. 
Namely, in 1988, Mr. Marcoux became a Fellow of the Ordre des comptables agréés du Québec (CPA). In 2003, he received a Doctor honoris causa from HEC Montréal in recognition for his significant success in business and his engagement to the well-being of his community. In 2005, he was selected by his peers as one of Canada's most admired chief executives, according to the Tenth Annual Survey of Canada's Most Respected Corporations by KPMG. In 2006, he was awarded the Order of Merit by Université de Montréal's Alumni Association for his exceptional contribution to economic development in Québec.
The U.S. industry has also recognized Rémi Marcoux as an outstanding entrepreneur, inducting him into the North American Printing Industry Hall of Fame in 2006, and awarding him the distinguished Harry V. Quadracci VISION Award in 2007, given to a pillar of the North American printing industry who has shown leadership, achievement and visionary excellence.
In 2007, Rémi Marcoux was named a Member of the Order of Canada, the highest distinction in the Canadian Honours System. In 2008, he was appointed Officer of the Order of Québec by the Premier of Québec, and was also inducted into the Academy of Great Montrealers. In 2012, the Conseil du Patronat du Québec presented him with the Prix de carrière for his exceptional contribution to Québec society. In 2013, the Montreal Heart Institute Foundation awarded him its prestigious medal of honour in appreciation for his generosity, commitment and dedication to the organization. In 2014, the Lifetime Achievement Award was bestowed on him by the Ordre des comptables professionnels agréés du Québec (CPA) for the importance of his professional achievements and the scope of his community engagement. In 2018, the Caisse de dépôt et placement du Québec made him a member of the Cercle des grands entrepreneurs du Québec to honor his achievements, commitments and ideals that fostered entrepreneurship and contributed to Québec's economic development.