TC Transcontinental works with some of the largest brands and retailers in North America, distributing product to over 20,000 locations per week across the country.
With customized storage solutions and nearly 1,000,000 square feet of facility space from Montreal to Vancouver, we offer complete warehousing and distribution services to our clients. This gives you the ability to run modular stocking programs, custom raw material or finished product inventories and other end-to-end solutions that drive operational efficiencies, cost-savings and speed-to-market.  And backed by our online marketing portal and co-packing software, you'll have visibility into inventory levels and POP elements, all in one place.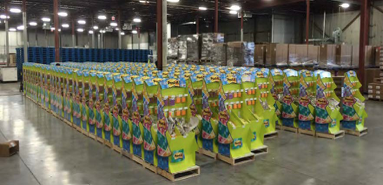 Many consumer brands rely on their external manufacturing and packaging partners to help bring products to market more quickly and cost-effectively, but many of these supply chain ecosystems lack the ability to collaborate effectively and are shackled by the limitations of ERPs. Nulogy enables you to adapt and respond faster to retailer requests and program changes, see how inventory flows through your network, eliminate avoidable costs and ensure on-time full fulfillment of every program.