ClearShield®
Shrink Bags
& Tubestock 
Body
The Original and Clearly the Best for Bone-in Meat Packaging
There's a growing preference for shrink bags among manufacturers and consumers. And with good reason. Barrier shrink bags extend the shelf life of packaged food products, enhance food safety and hygiene, and provide convenience. 
Our proprietary, co-extruded shrink bags and tubestock for bone-in fresh red meat applications are a cut above the rest.  What makes Clearshield™ the clear and superior choice?  Our patchless technology which has been providing a proven competitive advantage in meat processing operations and retail cases for over 15 years.
As the original developers of this high-performing structure, Clearshield™ was crafted with outstanding barrier, superior durability, elongation, seal strength, shrink-ability, and incomparable haze-free gloss and shine.
Additionally, Clearshield™ bags are lighter than the current bags on the market, yielding an overall lowered environmental footprint.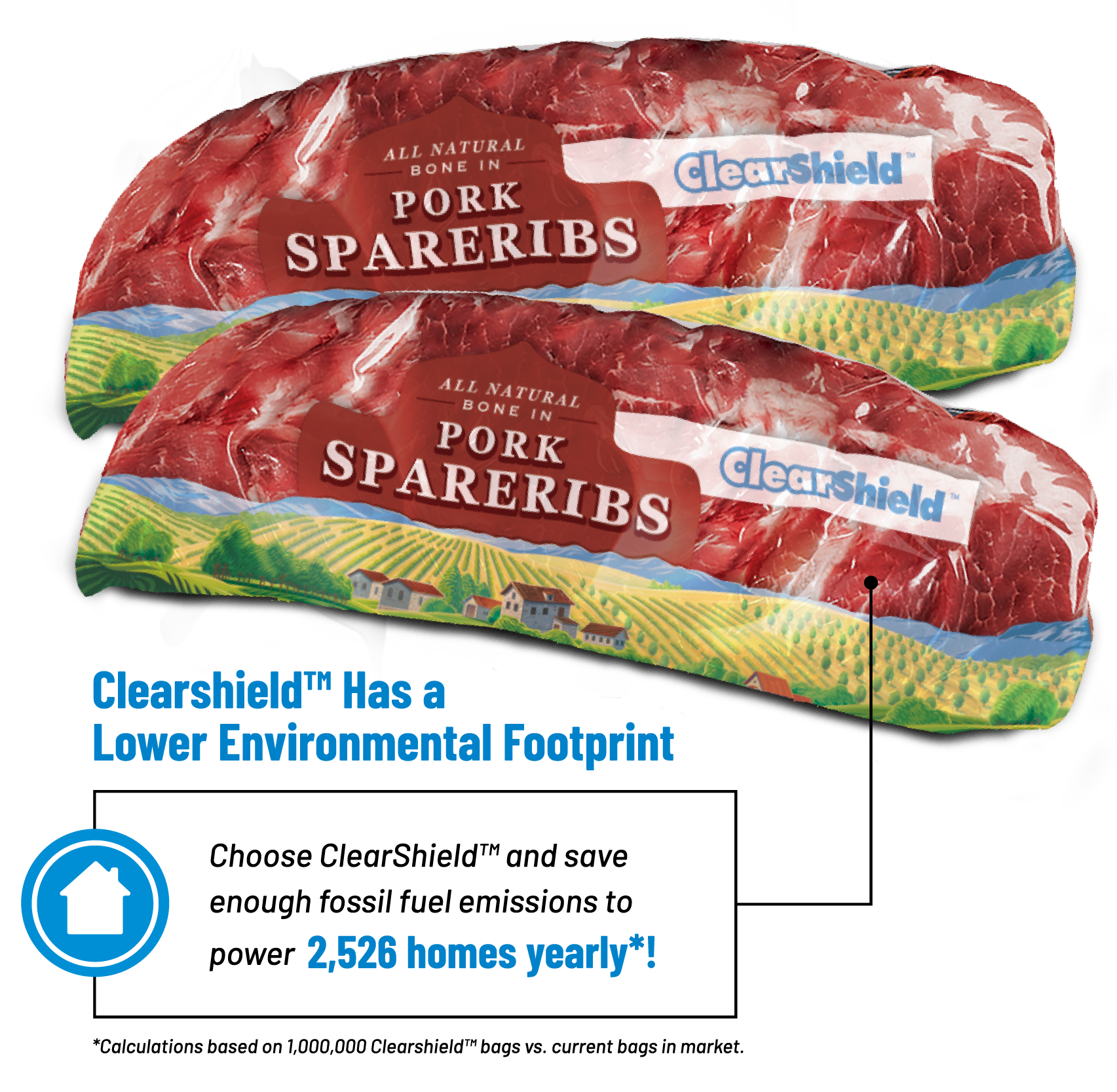 Blocks
Text
Proprietary Patchless Extrusion Technology



Patchless technology delivers uncompromised durability from end to end.  Stands up to the rigor and high abuse of processing and distribution.  
Patch free bag technology that provides uniform puncture resistance for exceptional end-to-end durability. 
Outstanding barrier protection to keep your meats fresh and extend shelf life.    
Superior toughness over traditional patch bags at half the thickness.    
Exceptional and uniform puncture resistance for end-to-end protection against bone punctures.    
Limitless sealing area ANYWHERE on the bag.     
Eliminates unsightly patches, need for caps or boneguard cloth, to spotlight your product.
 
Tough and Beautiful
Clearshield is in a class of it's own – with unparalleled crystal-clear shine and no unsightly patches, your product will  look  great at retail and shine on shelf.
Excellent high gloss finish for crystal-clear, haze free packaging.
2-sided, high quality, 10 color printing for captivating graphics.
High-shrink technology eliminates unsightly tails, patches and ends for tight-fitting, neat packages.    
Complies with the standard FDA/USDA food for additive requirement for direct food contact.    
Available in shrink bags and tubestock for operational flexibility.    
Thinner gauge alternatives for institutional or case-ready options.
Sustainable, with a lower environmental impact to appeal to the conscious consumer.
 
Text
Clearshield™ Has a Lower Environmental Footprint
Clearshield™ bags are lighter then the current bags on the market, yielding an overall lowered environmental footprint.  What does that mean?  Less fossil fuel emissions, less greenhouse gases, and less water usage. 
Choose Clearshield™ and save enough fossil fuel emissions to power 2,526 Homes yearly**!!
**Calculations based on 1,000,000 Clearchield™ bags vs current bags in market.