Fresh N Tasty®
Produce Pouches
Body
Fresh N Tasty® Produce Pouches
Promote your fresh produce department 
Steam N Eat® Pouch is the alternative for retailers wanting to provide their consumers with a fresh addition to ready-to-eat meal kits. The pouch is designed with customized laser venting technology that allows the produce to cook evenly while keeping the taste and nutritional benefits of steam cooking with all the convenience of their microwave. Allows the consumer to save prep time and clean up.
Currently, pouches with this technology are found in the frozen aisle or prepacked at the processor level. Retailers can now offer a fresh and healthy alternative to consumers who prefer fresh over frozen.
Our Fresh N Tasty® Bulk Produce can be used for a variety of un-cut produce items. The high clarity pouch gives a clear view of the product, an easy carry handle and recloseable zipper for convenience. Consumers love the time savings of purchasing prepackaged produce.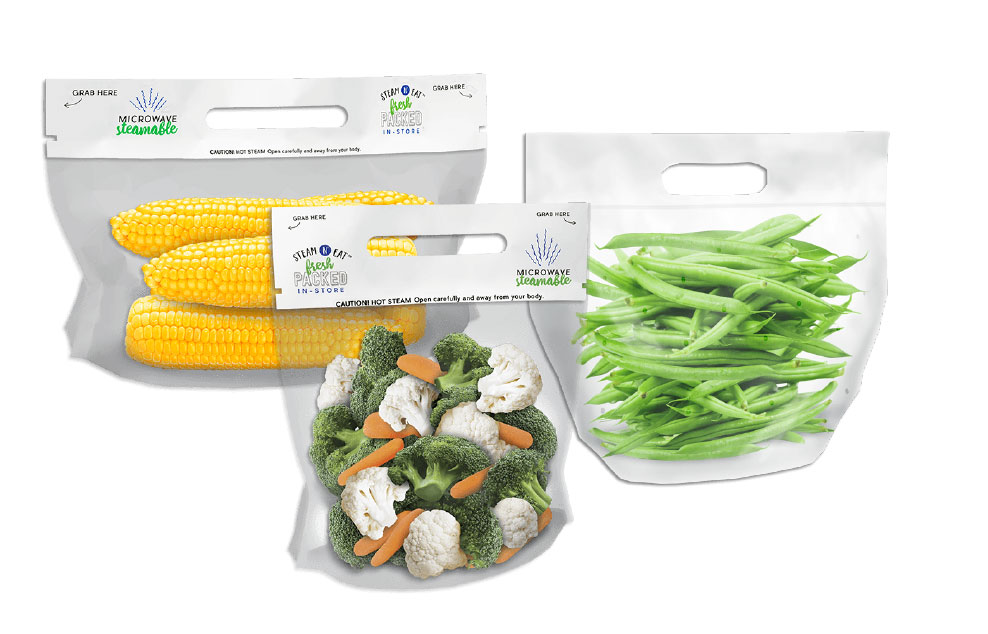 Blocks
Text
Steam N Eat® Pouch 
Fresh Alternative – builds consumer loyalty by providing an alternative to frozen


Increases Rings – consumers will pay a premium price for convenience


Meal Solutions – gives produce department a way to offer ready-to-eat side dishes, providing a healthy alternative for lunch or dinner


Consumer Convenience – easy open feature, easy carry handle, reduces cook time, easy prep and clean up


Uniform Venting – for proper heating, maintains produce flavor
 
Fresh N Tasty® Bulk Produce 
Increased Sales Volume – encourages higher rings


Food Safety – prevent contamination from consumer handling


Reduces Shrink – more product sold aids in managing turns


Consumer Convenience – easy carry handle, resealable, time savings


Versatile Pouch – beans, peas, broccoli, cauliflower, potatoes, apples, oranges, grapes, tomatoes and more


Freshness Retention – macro perforations extend shelf-life
 
Text
Our Commitments 
Research & development has resulted in pouch technology that has transformed the plastic packaging industry. 
Superior design makes our pouches reliable, efficient and the most advanced in the supermarket perimeter. 
Our pouches are simply the most effective packaging solution, offering exceptional options for customization.