All paws up for our pet food packaging
Pet lovers demand the best for their four-legged family members. We help you deliver with custom-engineered film laminations featuring superior moisture, grease, water, and oxygen barriers (Nylon, PET, Foil). Your customers will come running for our small or large flat-bottom bags and pouches, chub films and shrink films for bulk packaging.
All our pet food packaging comes with a wide range of features and options.
Durable film solutions. A full spectrum of pouch and bag styles. Superior seals with a variety of temperature ranges. And industry-leading printed shrink films from 30 gauge to 4 mil.
Whatever your pet food needs, you're barking up the right tree with TC Transcontinental Packaging.
Ask for a copy of our market research on Emerging Pet Food Retail Trends!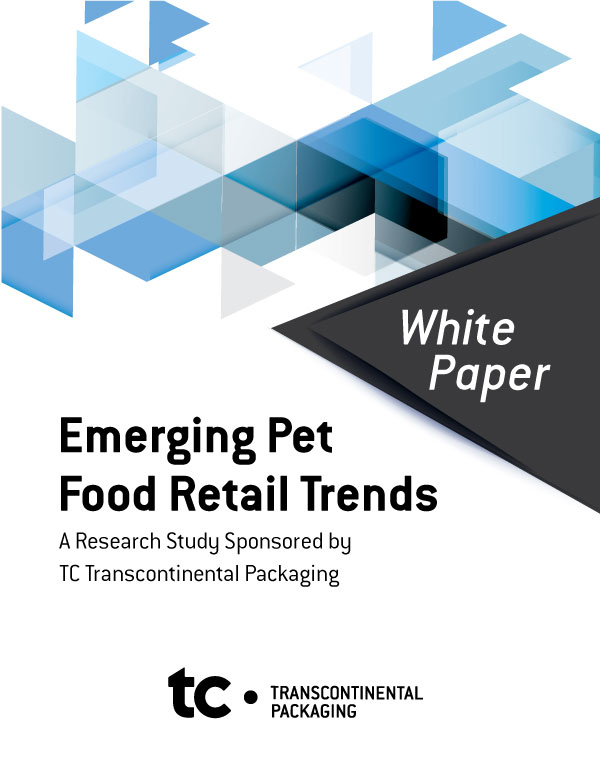 Dry foods Plastic pouches & bags
Snacks & Treats
Fresh Pet Food
Multi-Pack Shrink Films
Industry-leading 6 week lead times

Exceptional graphics, up to 11 colours, and 175 line screen for shelf impact
In-house registered matte, gloss & specialty coatings
Broad range of products for every need and breed
Food safe security with SQF level certified facilities
Engineered films for exceptional barrier properties, including moisture, grease, water, and oxygen (MET, PET, Foil)
Durable film solutions: puncture, abrasive, scuff and heat resistant
State-of-the-art, newly installed, multiple bagging lines

Bags and pouches

Wide range of sizes from small to very large
Range of consumer convenience features: EZ open, recloseable, punch-out holes and handles, and more
Solutions for dry and natural pet foods

Flat bottom pouch

Two web pouch, ability to mix substrates
Side panel product viewing windows
Self-standing and spill resistant

Quad seal and box pouch

One web printing, versatile size range
Self-standing
Easy fill

Pinch and glue style

Fold over bottom

Large bottom for laydown display

Doyen style stand up pouch

Terminated gussets for easy fill, easy to remove contents
Gusseted bottom

3 side seal pouch

Value & Functionality

Custom engineered films with barrier features
Adhesive lamination – duplex & triplex
Optimal sealing through contamination
Food safe security with SQF level certified facilities

Pouches

Wide variety of pouches

Stand-up
3-side seal
Gusset bottom
Doyen bottom
True flat-bottom

Sizes for single-serve and toppers through large bags
Convenience features: laser scoring, zippers, Velcro®, and punch out holes and handles
MatteFX® for advanced surface treatment for shelf appeal

Rollstock for VFFS or horizontal pouch making machines

Standard to high barrier alternatives
Stiffness for easy filling
Proven machinabliity

Keeping it fresh

Films with exceptional oxygen barrier properties
Laminations that provide shelf life for refrigerated and frozen applications
High-speed films & structures for efficient processing
Food safe security with SQF level certified facilities

Pouches & Bags

Pouch solutions to keep fresh and frozen pet food palatable and preserved
Wide variety of pouch styles
Convenience features
Wide range of sizes

Chub films

Excellent slip characteristics provide smoother packaging on high-speed equipment
Produces consistent, superior seals throughout
Wide operating window for sealing
Puncture resistance to withstand abuse

All wrapped up

For multipacks, canned foods, and bulk food packaging
Providing a clear edge over labels, printed inserts, paperboard packaging
Up to 10 colour high impact graphics
Showcase product and strengthen shelf presence

Shrink films

Superior shrink film material designed to ensure package integrity
Industry-leading printed and unprinted films (30 ga–4 mil)
Outstanding clarity and gloss
Reverse printing with center fold
Variety of films including:

PVC Shrink
Polyolefin
Polyethylene