Lawn & Garden
Packaging Options
Body
You Plant the Seed, We'll Deliver!
Our team is here to support you in delivering on the needs of the market. We know the unique characteristics of the lawn & garden industry and are dedicated to helping you prosper. We provide industry-leading solutions and lead times that allow for maximum packaging and operational success.
Our Films:
Protect the chemical integrity of lawn and garden products with the ultimate level of barrier. Our films protect your products in challenging storage environments and stand up to the rigors of distribution.  
Perform in high-speed applications to keep your operation humming.  Our specialty films are crafted to ensure optimal processing efficiency and reliable sealing in any and every production line.
Pronounce your brand message with beautiful packaging graphics. Our color management expertise ensures your package will shine. Whatever the message, we'll execute your vision on the package.
Blocks
Product List
Image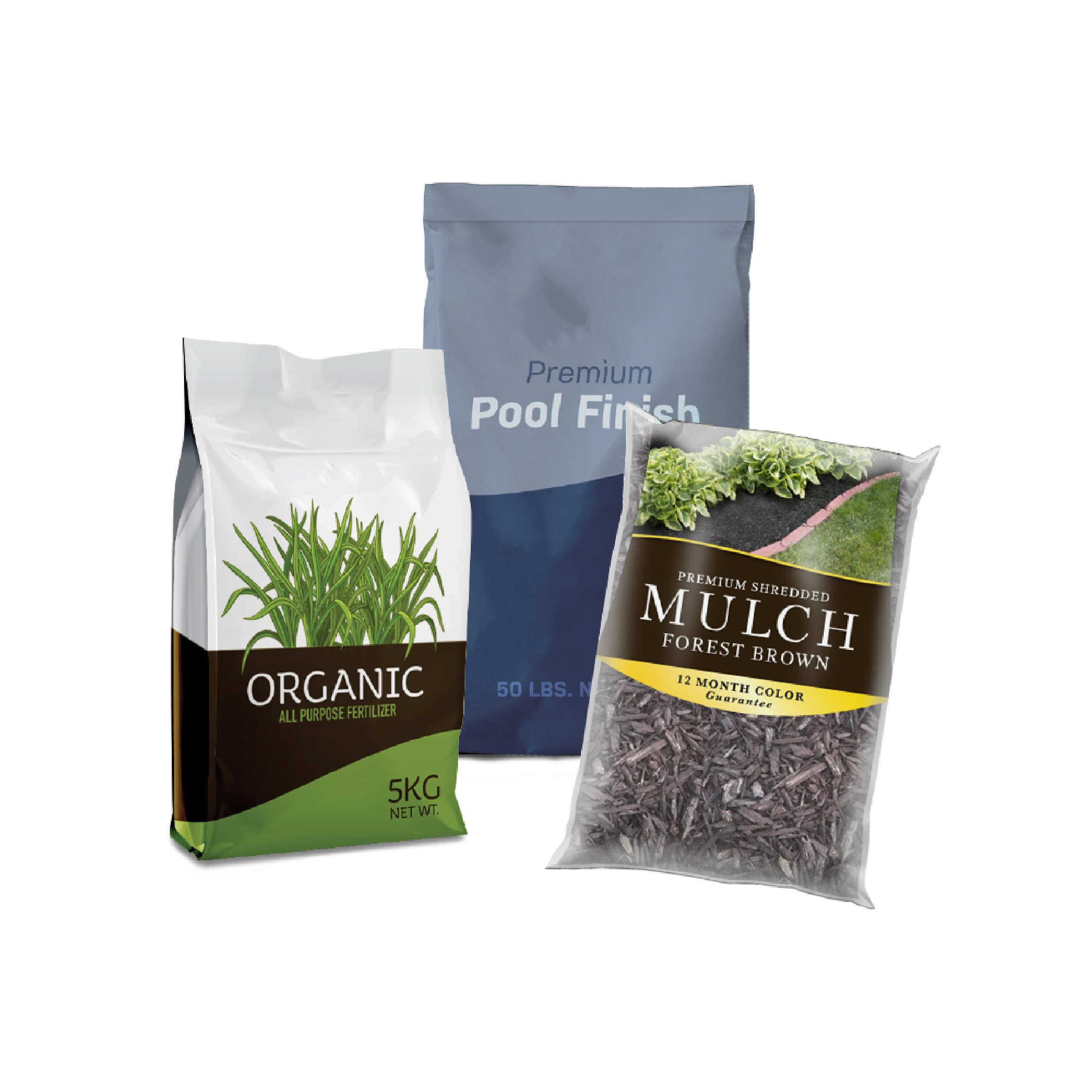 Text
Lawn & Garden Packaging 
We craft lawn and garden packaging solutions that protect your products, allow for a multitude of shapes, and have stand-out and graphics to accentuate your brand at retail.  
Flat Bottom Pouch: two web pouch with ability to mix substrates that is self-standing and spill resistant and has side panel product viewing windows  
 
Quad Seal: one web printing that has a versatile size range, easy fill capabilities, and is self-standing 
 
Bottom Seal Open Mouth (Poly): made from continuous tubing which reduces seal surfaced to prevent product loss, and is leak and moisture resistant 
 
Poly V-Sheeting (Form, Fill & Seal): gusseted tubing with economical form, fill and seal (FFS) for fully automated packaging on affordable machinery 
 
Poly Side Seal Open Mouth: customized laminated bag with eye-catching graphics that enable better branding and greater shelf presence, and is customizable with handles, bottom gussets, offset lip and more 
 
Poly R-Pac / Back Valve Bag: durable one or two ply poly construction that provides environmental protection, has an overlapping back seam to allow for various venting options, and is customizable with handles, embossing, and powder venting 
 
Rollstock: We bring a deep level of structure development expertise to manufacture rollstock that efficiently and effectively runs on virtually all types of flexible packaging filling equipment. 
 
APPLICATIONS

: bark, mulch, sand, stone, fertilizers, halite, pellets, pebbles, powdered chemicals, ice melt, granules, and insulation fibers
Text
Connect with the Consumer
Today's consumer is looking for so much more. With a wealth of information at their fingertips they want to know about the brands they are choosing, opting for those that are sustainable and responsible.  
They're looking for greater value and more transparency so they can make purchase decisions that are good for their health and the health of the planet.
Connect with the consumer and tell them your story, be it through your packaging design, by choosing a sustainable format, or on an in-store display. 
Our goal is to help you connect and have a range of solutions to do so. 
Captivate the Consumer
Outstanding, award-winning print: 10 –color HD, and, ECG 7 Printing


Enhanced graphics with registered coatings: tactile, matte, gloss, & specialty 


Unique & luxurious images with metallization and de-metallization patterns & techniques


Convenience features such as easy open and re-closeable options and handles to delight the consumer


Sustainable options to respond to the environmentally aware consumer
Text
Did You Know?
It's all about first impressions - it takes only 3 to 5 seconds for a consumer to notice a certain product among hundreds on a shelf and decide to purchase it.
That's why your product packaging is vital – communicate freshness and quality so your consumer will reach for your product. TC Transcontinental Packaging also offers a range of in-store marketing solutions to help tell your brand's unique story and connect with the consumer.
Text
Renters are an Under-Targeted Consumer Segment
A surprising amount of apartment tenants say that they love gardening (44%). As homebound adults are exploring new hobbies, this attitude brings light to an opportunity for indoor gardening systems. This will also cultivate their enthusiasm so that when they become homeowners, they will continue and increase their gardening activity.
Expanding on indoor gardening options could allow the lawn and garden market to reach not only home-owners with yards, but also apartment renters that are itching for new hobbies and have interest in fostering their own gardens.