Body
We're Packaging Barista's to Keep Your Coffee Fresh
Our team is here to support you in delivering on the needs of the market. We know coffee and appreciate the unique industry demands. We are poised to deliver. We provide industry-leading solutions and lead times that help you gain packaging and operational success while attaining the highest level of food safety. 
Our Films:
Preserve the delicate freshness and robust aroma of coffee with the ultimate level of barrier. Our films extend shelf life and maintain flavor and quality integrity to preserve your product for the perfect cup of coffee. 
Perform in high-speed applications to keep your operation humming.  Our specialty films are crafted to ensure optimal processing efficiency and reliable sealing no matter the blend, grind, process, flavor, or package style.
Pronounce your brand message with beautiful packaging graphics. Our color management expertise ensures your package will shine. Is your message sustainability? We'll deliver on that need without sacrifice.
Blocks
Product List
Image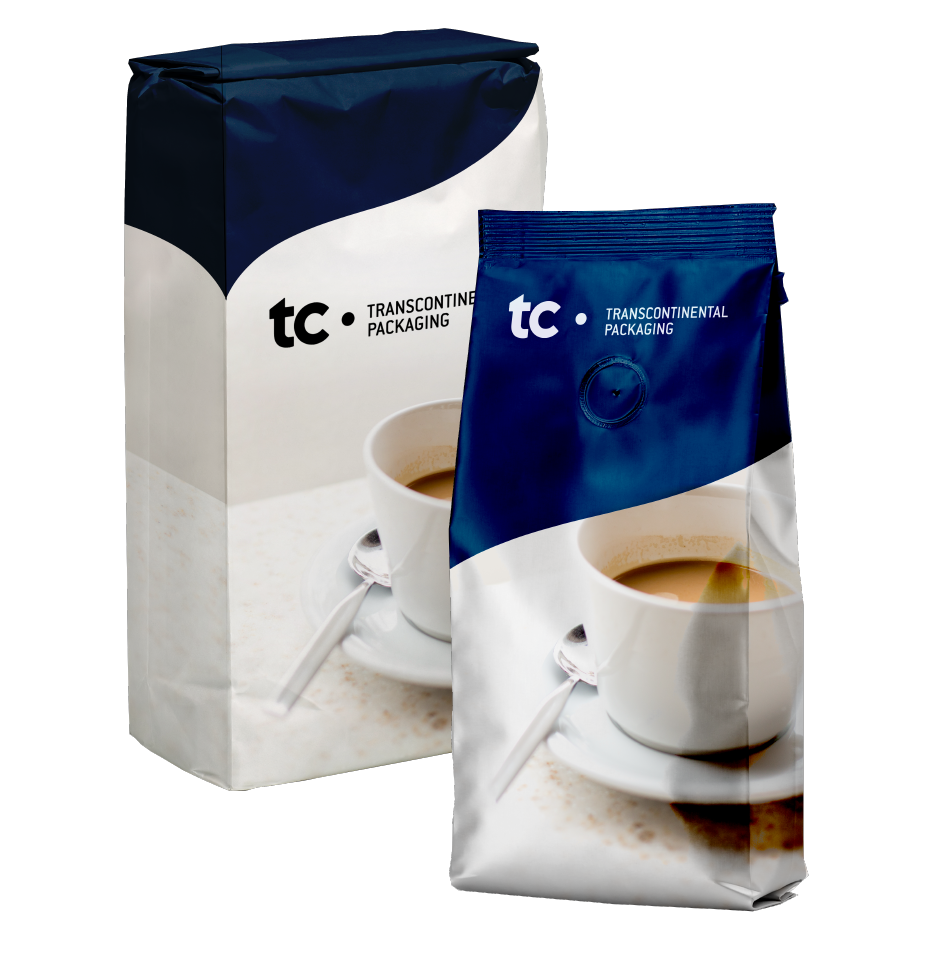 Text
Whole & Ground Bean Packaging 
We craft coffee packaging solutions that preserves it's flavor, extends shelf life, and is beautiful, to accentuate your brand at retail or online.  
Specialty 4-ply foil laminations with PE or Nylon to provide ultimate protection and exceptional puncture resistance
Packaging solutions for brick packs in 3 and 4 ply laminations to support you with a range of solutions for all of your needs
Rollstock or finished bags in a range of styles available for a range of filling requirements
Range of finished bag styles:  Block Bottom Side Gusseted, Quad Seal Side Gusseted Bag, Flat Bottom Pouch, Stand-up Pouch, or  Tin-Tie Bag to meet all coffee packging needs
Ability to fulfill short and long runs to meet the needs of the premium independent roaster through to large, well-known brands
Sustainable packaging options to appeal to the environmentally conscious consumer
APPLICATIONS:

Coffee
Text
Leverage the "In-home Barista" Trend
In recent years, launches of fresher formats – whole beans, ground, and pods – have increasingly dominated as drinkers become their own "in-home baristas". 
The "In-home barista" contributed to accelerated whole bean sales in 2020! They seek fresher coffee and are the main reason bean-to-cup machine sales on the rise.
Brands should continue to service the need for specialty coffee in-home as a cheaper alternative to coffee shops. (Mintel). Ensuring that you deliver the premium experience the in-home barista expects – choose a packaging partner that will maintain the quality that exceeds expectations.
Text
Connect with the Consumer
Today's consumer is looking for so much more. With a wealth of information at their fingertips they want to know about the brands they are choosing, opting for those that are sustainable and responsible.  
They're looking for greater value and more transparency so they can make purchase decisions that are good for their health and the health of the planet.
Connect with the consumer and tell them your story, be it through your packaging design, by choosing a sustainable format, on an in-store display, or by driving them on-line thorough a QR code to share your brand values. 
Our goal is to help you connect and have a range of solutions to do so. From creating sustainable packaging through to videography and in-store displays – were here to help you communicate a brand experience.
Captivate the Consumer
Outstanding, award-winning print: 10 –color HD, and, ECG 7 Printing


Enhanced graphics with registered coatings: tactile, matte, gloss, & specialty 


Unique & luxurious images with metallization and de-metallization patterns & techniques


Convenience features such as easy open and re-closeable options to delight the consumer


Sustainable options to respond  to the environmentally aware consumer
Text
Did You Know?
It's all about first impressions - it takes only 3 to 5 seconds for a consumer to notice a certain product among hundreds on a shelf and decide to purchase it. That's why your product packaging is vital – communicate freshness and quality so your consumer will reach for your product.
TC Transcontinental Packaging also offers a range of in-store marketing solutions to help tell your brand's unique story and connect with the consumer.