CEGEP and University
The College and University sector is the leader in its segment in Canada and publishes in a very wide range of disciplines.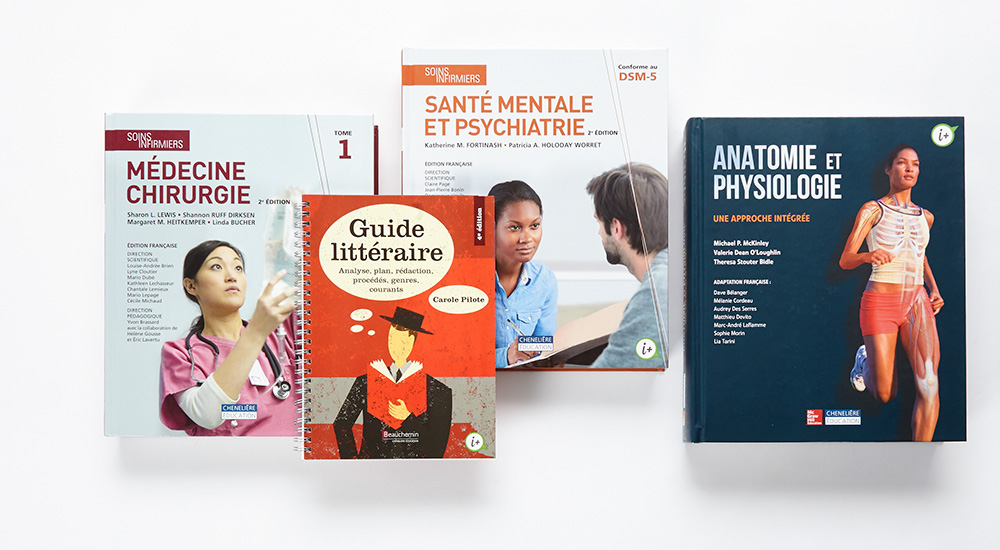 Most notably, it is the leader in the fields of business administration, science, nursing and in several humanities and language disciplines.Its publications primarily target the post-secondary school network in Québec, while its extensive list of titles also extends throughout Canada, French-speaking Europe and in North Africa.
The books published by this sector are available digitally and in print and feature complementary digital resources on the i+ Interactif platform. Interactive activities, solution manuals, complementary documents, videos and animations can also be found there.
Our brands
The College and University sector publications are offered under the Chenelière Éducation, Chenelière McGraw-Hill, Modulo, Gaétan Morin and Beauchemin brands. This sector also distributes publications of the AQPC (Association Québécoise de Pédagogie Collégiale) and the CCDMD (Collegial Centre for Educational Materials Development).
A team to support you
The sales team of the College and University sector offers continuous educational support to all of its customers, mainly through individual meetings, workshops or webinars.
The publications of TC Media Books' College and University sector are distributed in Europe by the following distributors: PUF (Presses Universitaires de France) for France, Belgium and Luxembourg, and Servidis for Switzerland.
To find out more about the complete offering in this sector, go to www.cheneliere.ca and www.groupemodulo.com. (French content only)