Body
Caring for you, your home, and your products
Our team is here to support you in delivering on the needs of the market. We know the home & personal care industry demands and are poised to deliver. We provide industry-leading solutions and lead times that allow for maximum packaging and operational success.
Our Films:
Protect your product with custom crafted structures that deliver the highest standard of puncture resistance, and stand up to the rigors of distribution.
Perform in high-speed applications to keep your operation humming.  Our specialty films are crafted to ensure optimal processing efficiency and reliable sealing in any and every production line.
Pronounce your brand message with beautiful packaging graphics. Our color management expertise ensures your package will shine. Whatever the message, we'll execute your vision on the package.
Blocks
Product List
Image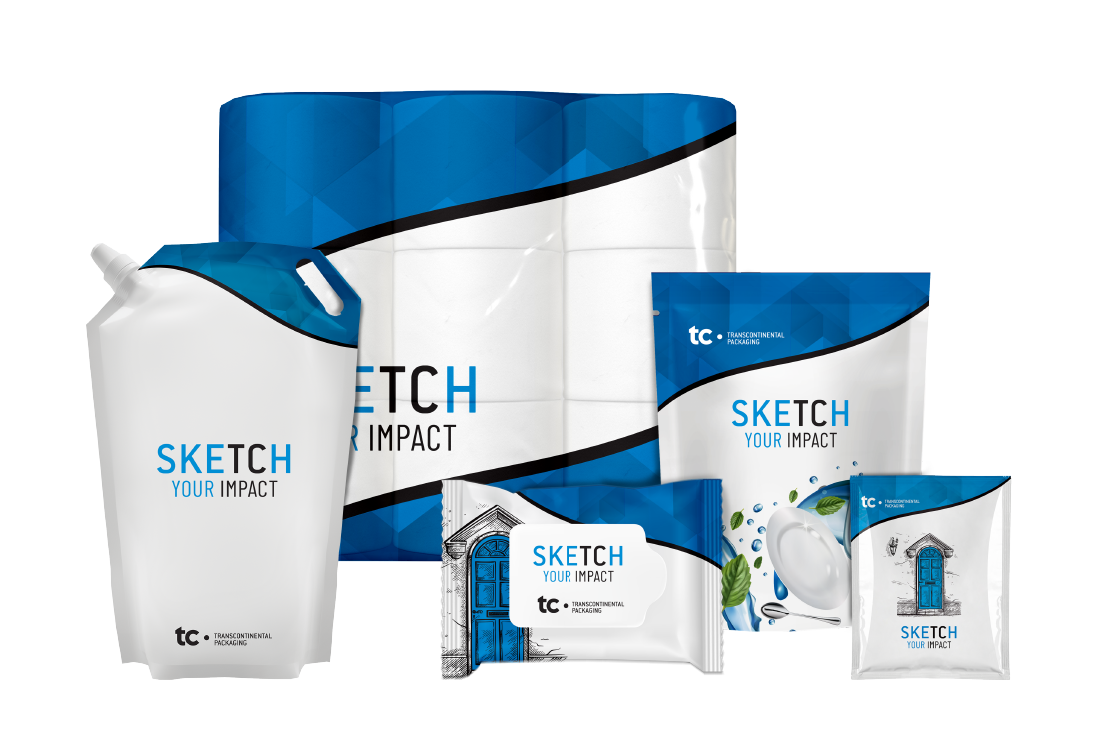 Text
Paper Products Packaging
We craft paper goods packaging solutions that protect your products, allow for a multitude of shapes, and have precision placement of text and graphics to accentuate your brand at retail or online.  
Towel and Tissue Overwrap (TTO) offerings with OPP, PE, and PO options providing the highest standard of quality. 
Improved machinability with the available option of starch application
Customer specified films capability for all your product specified needs
Experts in conversion of light gauge shrink films down to 30 gauge
APPLICATIONS:

Towel and Tissue, Plates and Bowls
Text
Connect with the Consumer
Today's consumer is looking for so much more. With a wealth of information at their fingertips they want to know about the brands they are choosing, opting for those that are sustainable and responsible.  
They're looking for greater value and more transparency so they can make purchase decisions that are good for their health and the health of the planet.
Connect with the consumer and tell them your story, be it through your packaging design, by choosing a sustainable format, or on an in-store display. 
Our goal is to help you connect and have a range of solutions to do so. 
Captivate the Consumer
Outstanding, award-winning print: 10 –color HD, and, ECG 7 Printing


Enhanced graphics with registered coatings: tactile, matte, gloss, & specialty 


Unique & luxurious images with metallization and de-metallization patterns & techniques


Convenience features such as easy open and re-closeable options to delight the consumer


Sustainable options to respond  to the environmentally aware consumer
Text
COVID-19 causes an intense spike in production and speed-to-market demands 
Amidst the panic resulting from the pandemic, paper products were disappearing off the shelves, and paper goods brands were forced to test their production capabilities. 
Faced with unprecedented demand from our customers, we proudly upheld our supply chain role and summoned the firepower to provide our paper goods partners with packaging quantities higher than ever.
It's important to choose a partner that has the ability to adjust to unforeseen circumstances and deliver on the promise to meet production needs. If you're looking for a reliable and dedicated packaging provider, look no further!   
Text
Focus on lasting effects on consumer behaviors resulting from the pandemic
While the pandemic resulted in temporary changes for many industries, it will have permanent effects on the paper goods industry.
The emotional imprinting of the pandemic has increased the consumer resolve to stay prepared, and has shed light on the ease and convenience of buying online. 61% of consumers in the US state that they will buy online even when it's safe to shop in-store. We have also seen a dramatic increase in at-home cooking, which a majority of people plan to do even more in the recovery after improving their cooking skills and experiencing the health benefits. 
Brands that can increase their online, e-commerce presence and can strengthen their link to cooking, both as an aid in the cooking process and cleaning up afterwards, will be using these lasting pandemic effects to their advantage.