Body
Caring for you, your home, and your products.
The personal care market is ever-evolving as consumer motivations change. We collaborate with customers to provide innovative packaging that represents brands visions and provides superior performance to protect products and enhance consumer experience.
Our team is here to support you in delivering on the needs of the market. We know the home & personal care industry demands and are poised to deliver. We provide industry-leading solutions and lead times that allow for maximum packaging and operational success.
Our Films:
Preserve the fragrant scents and chemical integrity of household and personal care products with the ultimate level of barrier. Our films protect your product from odor contamination and provide chemical resistant packaging.  
Perform in high-speed applications to keep your operation humming.  Our specialty films are crafted to ensure optimal processing efficiency and reliable sealing in any and every production line.
Pronounce your brand message with beautiful packaging graphics. Our color management expertise ensures your package will shine. Whatever the message, we'll execute your vision on the package.
Blocks
Product List
Image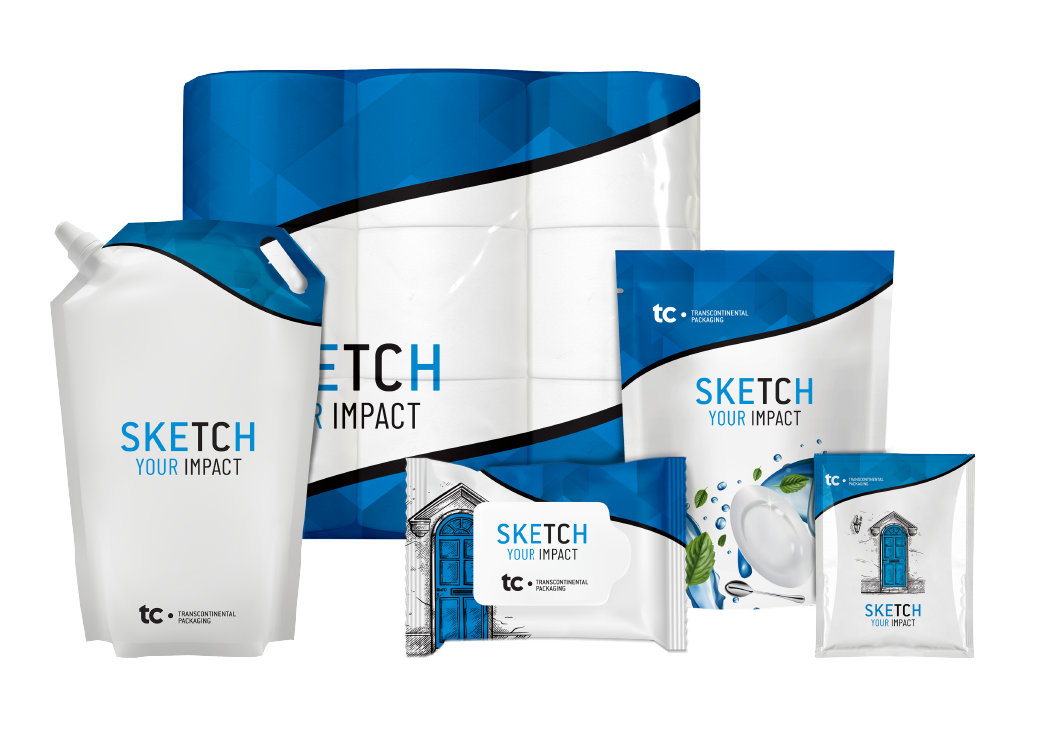 Text
Personal Care Packaging
We craft personal care packaging solutions that preserve scent, ensure protection against contamination, and stand out visually, to accentuate your brand at retail or online.   
Stand-up or 3-side seal pouches with easy pour spout closure and strong seal strength for reliable product protection and dispensing. 
Specialty crafted films for wipes that stand up to harsh product requirements and provide for easy dispensing and to prevent product dehydration
Overwraps with the highest standard of print quality to make sure your product grouping stands out from the rest!
APPLICATIONS:

Cosmetics, Sachets, Feminine Products, Sun Care, Oral Care, Hair Care, Skin Care, Personal and Cosmetic Wipes
Text
Connect with the Consumer
Today's consumer is looking for so much more. With a wealth of information at their fingertips they want to know about the brands they are choosing, opting for those that are sustainable and responsible.  
They're looking for greater value and more transparency so they can make purchase decisions that are good for their health and the health of the planet.
Connect with the consumer and tell them your story, be it through your packaging design, by choosing a sustainable format, or on an in-store display.
Our goal is to help you connect and have a range of solutions to do so. Collaborate with use to create sustainable packaging that propels your brand's vision.
Captivate the Consumer
Outstanding, award-winning print: 10 –color HD, and, ECG 7 Printing


Enhanced graphics with registered coatings: tactile, matte, gloss, & specialty 


Unique & luxurious images with metallization and de-metallization patterns & techniques


Convenience features such as easy open and re-closeable options to delight the consumer


Sustainable options to respond  to the environmentally aware consumer
Text
Did You Know?
It's all about first impressions! It takes only 3 to 5 seconds for a consumer to notice a certain product among hundreds on a shelf and decide to purchase it.
That's why your product packaging is vital – communicate freshness and quality so your consumer will reach for your product. TC Transcontinental Packaging also offers a range of in-store marketing solutions to help tell your brand's unique story and connect with the consumer.
Text
Cater to a renewed focus on self-care
Growing focus on mental health has led many consumers to use their personal care routine as a way to relax or unwind, highlighting demand for products designed to inspire mood and relaxation. 
Finding ways to link personal care products to holistic wellness, through scents or health-focused ingredients, will give personal care brands an edge in the coming years.
Advertising products in a way that highlights both the functional and mental benefits will leave consumers with no choice but to grab the product off the shelf. Partner with us to ensure your packaging gets the message across!