Twist Close
Recloseable Treat
& Snack Bags 
Body
Twist Close – Packaging with a Twist! Re-closeable Snack & Treat Bags 
We're reinvigorating the snack and pet treat categories with Twist Close re-closeable snack and treat bags. 
This new self-closing, twist to re-close snack and treat package enables consumer to open a bag of treats, eat the portion they want, then simply twist the package to close and throw it in a pocket or a purse.  No more messy spill in a pocket or a purse…now that's consumer convenience!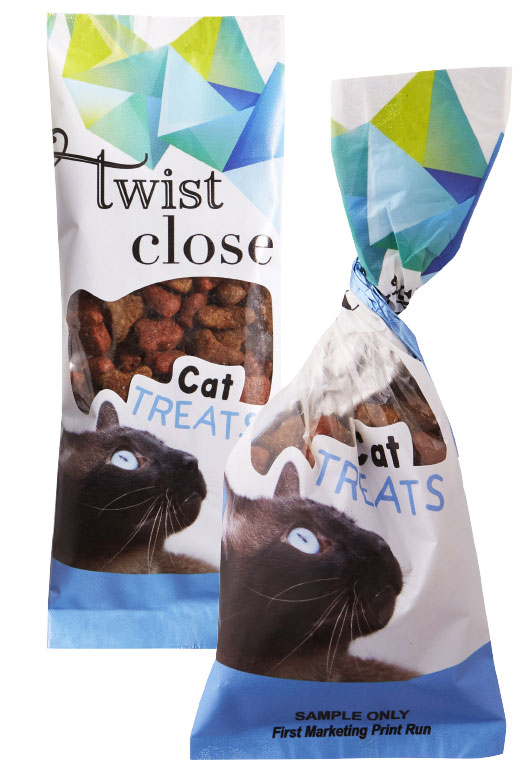 Blocks
Text
Delight Your Customers
Intuitive, Inventive and Innovative allows your brand to differentiate and stand out    


Facilitates snacking convenience, on trend to meet consumer needs and wants 


Available in smaller sizes, perfect for small portable snacks enjoyed on the go


Large snack portion control to meet consumer desire for healthy habits and reliable re-close 


Mess free, spill free design to delight the consumer


Clear window for product viewing
 
Delight Your Operators
Works with both VFFS and HFFS for operational and product possibilities


Leverage our confectionery and snack film expertise to achieve high-speed filling requirements


Foil strips provide excellent memory for easy reclosing to ensure product protection


Laminated to metallized or clear high-barrier films for a wide range of packaging options


Narrow "tube style" pouch or flow wrap that twists to close for variety of processing options


High-barrier film to maintain product flavor and freshness
Text
Inspiring Innovation
Your success is our success.  We'll keep you abreast of the trends that are motivating consumers, driving their product choices, and shaping the way they buy.
We challenge the status quo to deliver innovative solutions that will resonate with consumer and have them reaching for your product, all to support your success.
Text
Consumers Want Their Treat – A Bit At A Time
65% of consumers say they often look at portion control when selecting snacks, 
59% of adults around the world say they prefer to eat several small meals throughout the day, as opposed to a few larger meals,
70% of millennials prefer smaller portions and snacking throughout the day
Bet the treat time hero and provide the consumer with what they want.  With Twist Close brands can offer consumers the ability to indulge a bit at a time and can go back for more expecting the same freshess  and flavor as the first portion!
According to the State of Snacking: 2019 Global Consumer Snacking Trends Study from Mondelēz International
Text
Did You Know?
50% of US dessert/confectionery eaters like to allow themselves a small treat every day
1 in 10 US consumers say they would like to see candies or chocolates in resealable packaging. 
Twist Close packaging will serve up their needs!