TC Media and TC Transcontinental Printing win Canopy 2012 Ancient Forest Friendly Awards
Montreal, December 14, 2012 – TC Transcontinental is pleased to announce that TC Media and TC Transcontinental Printing were recently awarded 2012 Ancient Forest Friendly Awards by Canopy, a leading organization that seeks to protect forests and the environment through the transformation of business practices.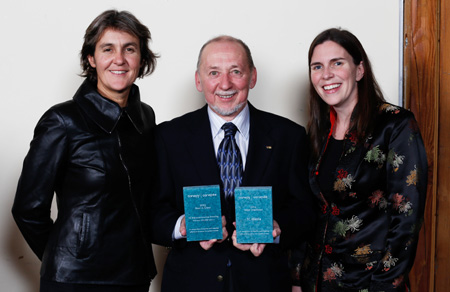 TC Media won for their continued progress in forest protection and significant increase in the use of ecopapers between 2011 and 2012 across all their publications. TC Transcontinental Printing won the Best in Class (Printers over 250,000 tonnes) award.
"TC Transcontinental is proud to see that the efforts of management and employees are having a tangible impact," said François Olivier, President and Chief Executive Officer. "By making informed choices, led by vision and through a concerted effort as a corporation, we are leading the way in our industry. We thank Canopy for drawing attention to our process by naming us for these awards; we share this honour with our customers and advertisers."
To earn a place among the 2012 winners, TC Media and TC Transcontinental Printing, like all applicants, had to complete a rigorous survey and go through a full evaluation by Canopy, formerly known as Markets Initiative. For details about the Ancient Forest FriendlyTM Awards, visit the Canopy site at http://canopyplanet.org/business/ancient-forest-friendly/aff-awards/. 

About TC Transcontinental
Largest printer and leading provider of media and marketing activation solutions in Canada, TC Transcontinental creates products and services that allow businesses to attract, reach and retain their target customers.  The Corporation specializes in print and digital media, the production of magazines, newspapers, books and custom content, mass and personalized marketing, interactive and mobile applications, TV production and door-to-door distribution.
Transcontinental Inc. (TSX: TCL.A, TCL.B, TCL.PR.D), known by the brands TC Transcontinental, TC Media and TC Transcontinental Printing, has approximately 9,500 employees in Canada and the United States, and reported revenues of C$2.1 billion in 2012. Website www.tc.tc.
– 30 –
For information:
TC Transcontinental
Media
Nathalie St-Jean
Senior Advisor, External Communications
TC Transcontinental
Telephone: 514 954-3581
nathalie.st-jean@tc.tc
www.tc.tc

Financial Community
Jennifer F. McCaughey
Senior Director, Investor Relations and Financial Communications
TC Transcontinental
Telephone: 514 954‑2821
jennifer.mccaughey@tc.tc
www.tc.tc